This leaf art project showcases the contrast of opaque metallic lines on top of a shiny marker drawing.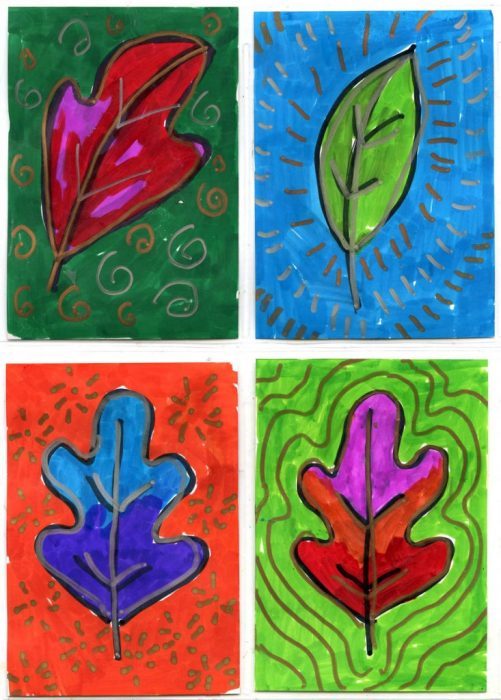 These colorful leaves were made for an art trading card project, but the idea could easily transfer make other applications as well.
The basic idea is to make a very colorful shiny marker drawing, and then add metallic marker lines on top. The difference of the opaque lines over the shiny color makes for a very rich look, and can create a fun fall project that teaches a lesson in contrast as well.
My inside tip on getting the brightest, shiniest color for your leaf drawing? Use a coated paper, which is exactly what finger paint paper is. It's a bit tricky to draw on with a pencil, as erasing is not as easy, but once you get to coloring, it's really fun as the markers just glide on the paper.
For the most colorful drawing, Sharpie markers will give you the most punch. If you can afford them, try the Sharpie Brush Markers. They are heaven to color with as the color couldn't be brighter, and the coloring couldn't be easier with their amazing little brushes.
MATERIALS
Finger paint paper
Paper cutter (recommended)
Sharpie Brush Markers
Black Sharpie marker, fine tip
Metallic markers
Trading card sleeves
DIRECTIONS
Coated paper works great with the Sharpie markers. If you don't have access to any, try finger paint paper. Cut paper to 3.5″ x 2.5″ size.
Draw outline of leaf with a black Sharpie marker.
Fill in the leaves with Sharpie brush markers. Color the background with a contrasting color.
Use a metallic markers to draw highlight colors on each card.
Place the cards in a plastic sleeve. The sleeves are fun to keep and add to in a binder.