Easy How to Draw a Rat Tutorial and Rat Coloring Page
Learn how to draw a rat with this step-by-step tutorial, and you'll be all set to celebrate the lunar Chinese New Year on Jan. 25th, 2020. Yep, it's gonna be the Year of the Rat!
Drawing a Rat
The Rat is the first of the 12 animal signs in the Chinese zodiac. Anyone who is born under this sign is said to be intelligent, charming, quick-witted, practical, ambitious, and good at economizing. Not the qualities most people associate with rats, right?
This tutorial is made with simple shapes that still keep the qualities of a rat, namely the long face and body. Hopefully it's just the right mix of kinda easy, kinda realistic, and kinda cute … to keep your students interest.
Use the Button below to Download a PDF Tutorial
Rat Coloring Page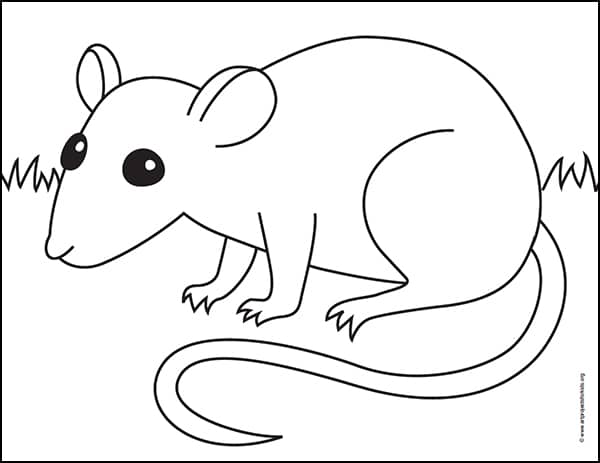 Materials for Rat Project
Step by Step Directions for Rat Project
Time needed: 45 minutes.
How to Draw a Rat
Start the body shape as shown.

Extend the neck a bit and add the head.

Draw the right ear as shown.

Erase the inside ear, and the other ear.

Draw two large eyes and a simple nose shape.

Draw the large back leg and a front one.

Erase inside legs, add leg on other side.

Draw the tail and add a grass line.

Trace the lines with a marker and color.
More Fun Mouse Projects