Easy How to Draw an Alien Tutorial and Alien Coloring Page
Below you'll find an easy step-by-step tutorial for how to draw an Alien and an Alien Coloring Page. The retro version that tends to show up in a lot of old movies.
Alien Drawing
If you have some young students that are looking to draw an alien, then this is the project targeted for them. Older ones that are fans of the scarier type can keep looking, as I'm sure there are places on the internet to find them. Meanwhile though, the good old-fashion little green person is fun to imagine, and drawing in a surrounding of their choice.

Teachers that like to weave in a few Elements of Art Words can certainly find examples of SPACE, no pun intended. Planets and space ships of varying sizes are all it takes to make a drawing look like it has a lot of depth.
Use the Button below to Download a PDF Tutorial
Alien Coloring Page
Time Lapse of an Alien Drawing
Materials to draw an Alien
Drawing Paper. This is the good stuff you can buy in bulk for a good price.
Pencils. I like how this brand always makes nice dark lines.
Black Marker. A permanent marker will give you a dark black color.
Note: All of the above are Amazon affiliate links.
Step by Step Directions for an Alien
Time needed: 45 minutes
Draw an Alien
Draw the head.

Add two large eyes and spots.

Draw two antennae and a mouth.

Draw the alien body.

Add two legs below.

Erase gray lines and add arms.

Draw a ground line and hills.

Finish with fun things in the sky.

Trace with marker and color.
Save me to your Pinterest Board
Draw More Aliens
More Aliens Coloring Page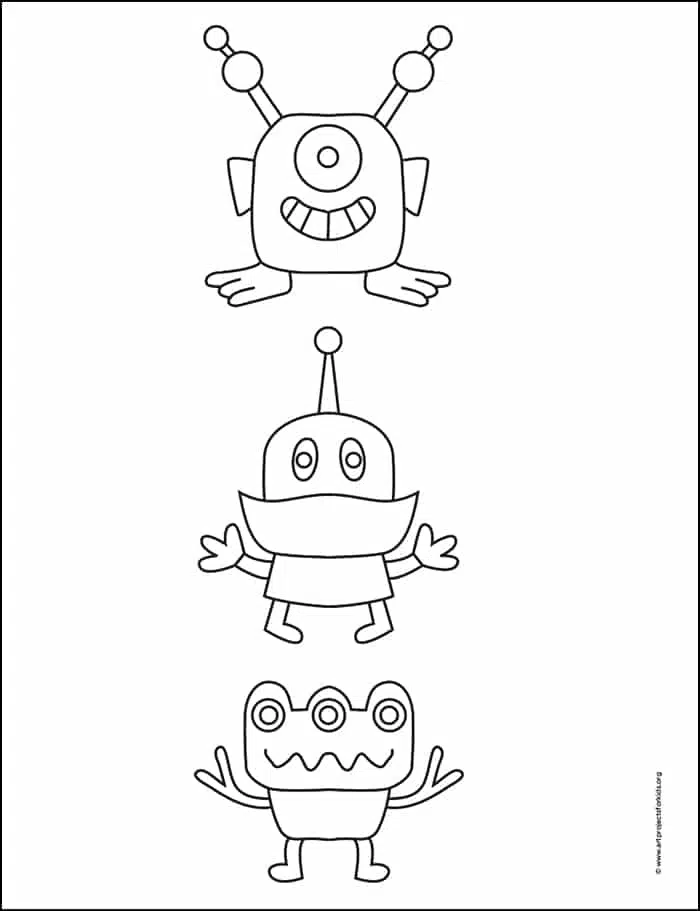 More Fun Space Themed Projects