Easy How to Draw a Whale Tutorial and Whale Coloring Page
Below you'll find an easy step-by-step tutorial for how to draw a Whale and a Whale Coloring Page. Now you have two fun versions to choose from!
Whale Drawing
When children are really young and just learning about the world around them and how to draw it, a whale can be a whale. But as they get older, and can see all the many variations of species there are, they can start to notice all their different shapes and sizes too.

Most generic drawings of whales tend to have the blunt end Sperm whale shape, but Blue and Gray and Humpback whales have mouths that look more like the one above. All of the species are fascinating creatures, but it's good practice to notice how different they are from each other, especially when it comes to drawing.

After all, if students happen to be writing a report about one, it helps to have a drawing that is as detailed as their writing. Those two skills go hand in hand with each other.
Use the Button below to Download a PDF Tutorial
Humpback Whale Coloring Page
Use Button below to download Easy Whale Tutorial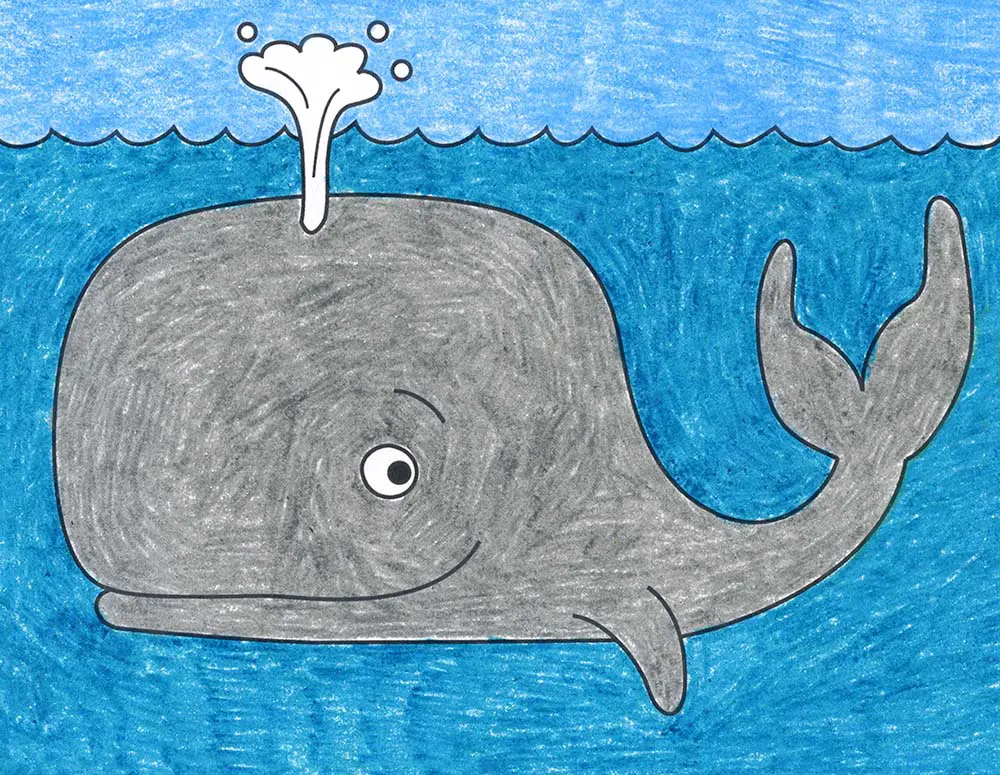 When you want to learn how to draw a whale, but one that is maybe more cute than realistic, this tutorial might be just what you need.
Materials for Drawing
Drawing Paper. This is the good stuff you can buy in bulk for a good price.
Pencils. I like how this brand always makes nice dark lines.
Black Marker. A permanent marker will give you a dark black color.
Note: All of the above are Amazon affiliate links.
Step by Step Directions for Drawing
Time needed: 30 minutes
Drawing Directions
Start with a top curve.

Add the bottom curve.

Draw a mouth line.

Add a tail.

Draw an eye and spots.

Draw lines on the belly.

Add two fins as shown.

Erase fin lines and add water and sky.

Trace with marker and color.
More Whale Drawing Projects