Free Halloween Printable: Haunted House Mini Mural and Coloring Page
Color your own Haunted House mural with this free Halloween printable. Finish with your own ghosts, goblins, bats and cats.
Free Haunted House Mini Mural
If you are looking for a free Halloween printable that offers the basics of a fun spooky image, but leaves room for some more creative additions, you've come to the right place.
This haunted house has all the worn out details that you often find in old houses — the crooked roof, falling windows shutters, and so on. There's even an old tree lots of bumpy branches.
The space that is left over though — empty space in the windows, on the grass and in the sky — are all just waiting for some more spooky things to be added. There could be ghosts in the windows, pumpkins on the grass, and owls sitting in the tree for starters.
If that sounds like what you are looking for, you now have two choices.
Download the Mini Mural template and have students work in small groups to create a little work of art.
Download the Haunted House Coloring page and have them work independently.
And if any of them create something you'd like to share, please email me at kathy (at) artprojectsforkids.org so I can share them. There's nothing like real kids artwork to help inspire others!
Pin me to your Pinterest Board
Use the Button below to Download a PDF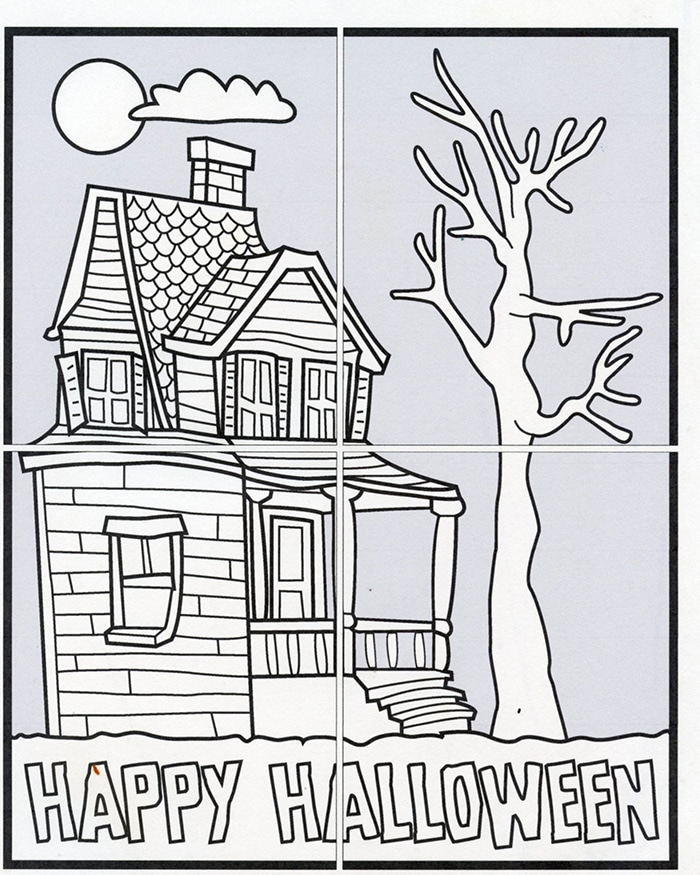 Free Haunted House Coloring Page
Materials to make a Haunted House Mini Mural
Paper (card stock or drawing paper is best)

Paper cutter or scissors
Masking tape
Black marker (for drawing more ghosts, bats, etc.)
Crayons
Mini Mural Directions
Time needed: 1 hour.
How to make a Haunted House Mini Mural
Print out each page.

Trim the pages to the outside lines.

Students each color a page.

Tape the four pages together from the back and display.