Draw Halloween eBook
$15.00
Now all your Halloween Drawing projects are in one fun ebook!
• 25 fun and easy Halloween themed drawing lessons
• All include student tutorial and finished full size sample
• You can even print the sleeve art shown to make your own binder!
Description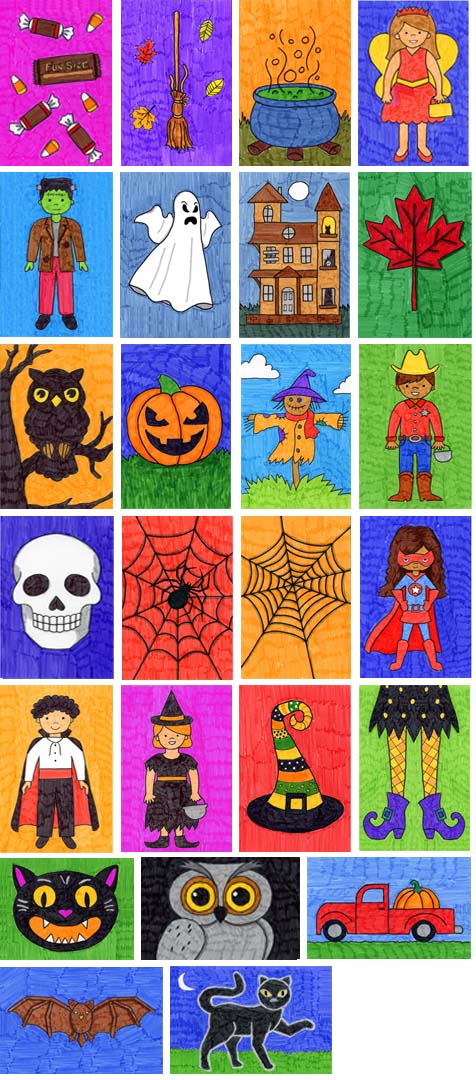 HALLOWEEN EBOOK TUTORIALS:
Bat, Black Cat, Broom, Candy, Cauldron, Fairy Costume, Frankenstein Costume, Ghost, Haunted House, Maple Leaf, Owl Face, Owl in Tree, Pickup Truck, Pumpkin, Scarecrow, Sheriff Costume, Skull, Spider, Spider Web, Supergirl Costume, Vampire Costume, Vintage Cat Face, Witch Costume, Witch Hat, Witch Legs
HALLOWEEN EBOOK INCLUDES:
25 drawing projects with step-by-step tutorial, full size line drawing sample, finished color sample
Binder and spine art, so you can create your own binder as shown above
Total pages: 82
RECOMMENDED ART SUPPLIES
Drawing paper
Permanent black markers
Stabilo Markers, I like the Power Wallet 30 Pack
HOW TO BUY
• To buy this ebook as a guest, simply add the item to your cart, use a credit card or PayPal, and you'll be sent a page with download links.
• If you would like to buy this eBook so it may be downloaded whenever you want from your own account page, you need to take one extra step first. Create an account, log in and then make your purchase. This is recommended for larger purchases as emailing replacement items later on can often exceed email size limitations.
• If any files become lost or damaged somehow, please email kathy@artprojectsforkids.org for replacements.