Description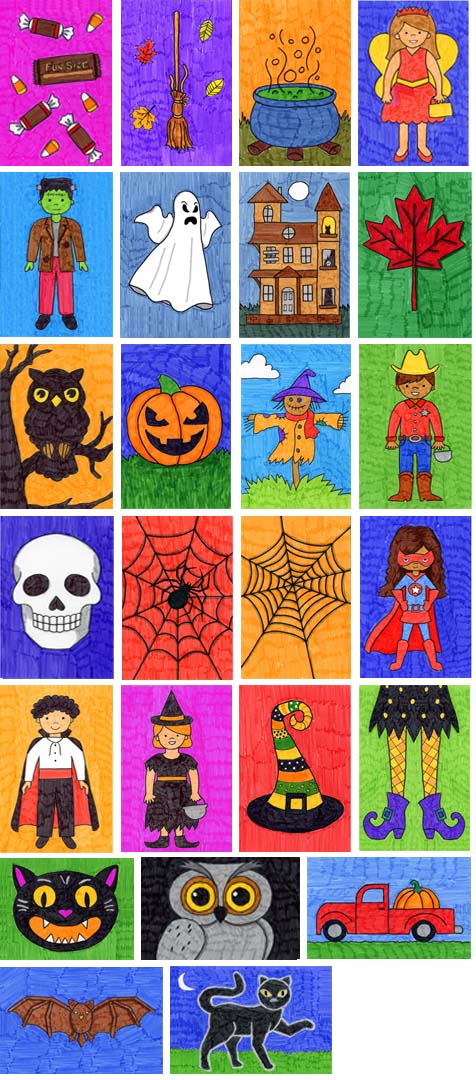 HALLOWEEN EBOOK TUTORIALS:
Bat, Black Cat, Broom, Candy, Cauldron, Fairy Costume, Frankenstein Costume, Ghost, Haunted House, Maple Leaf, Owl Face, Owl in Tree, Pickup Truck, Pumpkin, Scarecrow, Sheriff Costume, Skull, Spider, Spider Web, Supergirl Costume, Vampire Costume, Vintage Cat Face, Witch Costume, Witch Hat, Witch Legs
HALLOWEEN EBOOK INCLUDES:
25 drawing projects with step-by-step tutorial, full size line drawing sample, finished color sample
Binder and spine art, so you can create your own binder as shown above
Total pages: 82
RECOMMENDED ART SUPPLIES
*The above product links are referrals. If you click through and take action, I'll be compensated a small amount, at no extra expense to you.
FOR BEST SHOPPING RESULTS
Please visit Account page and create an account with your own password before placing an order.
Add product to cart and "Proceed to checkout".
Click on Terms and Conditions and "Proceed to PayPal".
Log in to use PayPal OR "Pay with Debit or Credit Card".
Enter credit card info and "Pay Now".
Return to Art Projects for Kids and login using your name and password. View account page for all your download links.
GUARANTEE
If your purchase is lost, deleted or damaged and you need a replacement, email kathy@artprojectsforkids.org for same day assistance.
Art Projects for Kids
Average rating:
0 reviews