Add some pop culture to your art lessons, and learn how to draw Baby Yoda from Disney's new Mandalorian show. An easy tutorial will show you how to draw all his cute features.
This little guy has been dubbed Baby Yoda, and is the apparent star of the new Disney Mandalorian series. He's suddenly everywhere, so an easy drawing tutorial to help elementary age students learn how to draw him seemed like a good idea. And if pop culture is what it takes to help connect more students to drawing, then so be it. (No copyright infringement is intended.)
Note: Because Yoda's cuteness is all about his eyes, I shared a tip in my tutorial. If you lightly plan the eyes by starting with dots for the corners, before you connect them, then you have a much better chance of drawing them the same size. It's frustrating if you draw two beautiful eyes, and afterwards realize that one is a bit larger than the other.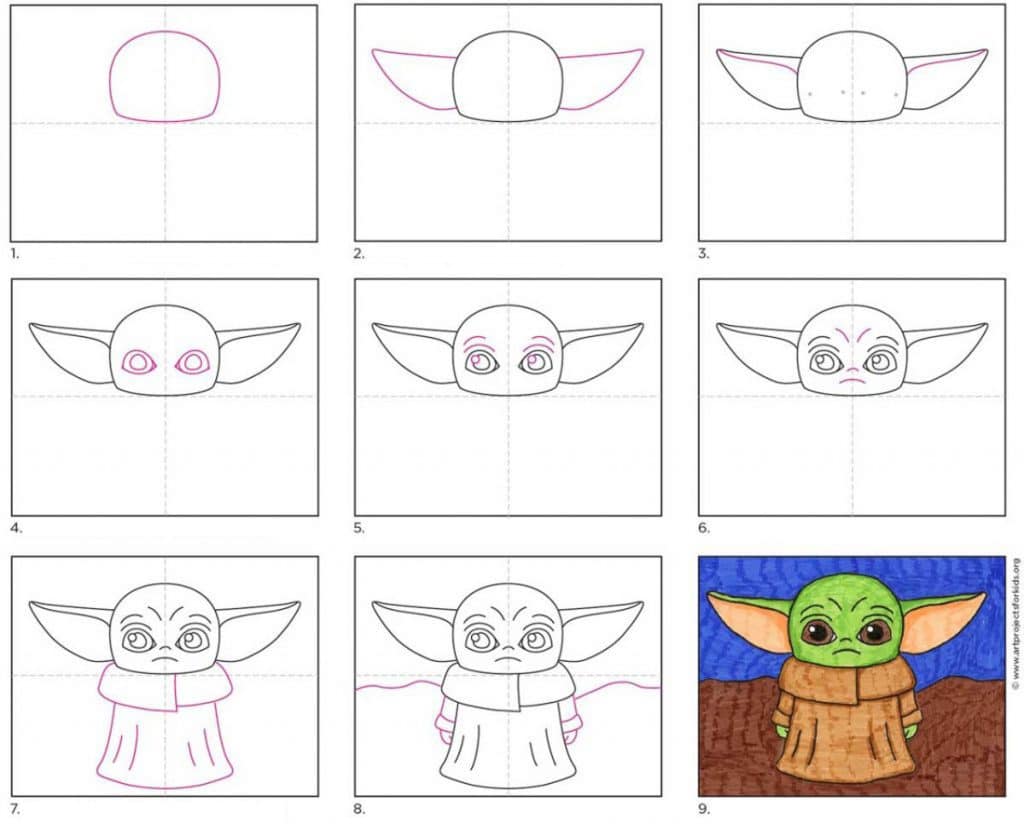 MATERIALS
Draw Baby Yoda PDF Tutorial (see above)
Black Sharpie marker, fine tip
Stabilo Markers
DIRECTIONS
Time needed: 1 hour.
How to Draw Baby Yoda
Draw a curved head shape.

Draw two symmetrical ears.

Add ear lines. Plan the eyes with four dots.

Connect the dots and draw the eyes.

Add circles for highlights and eye lines.

Finish the face with a mouth, nose and brows.

Draw a large collar and robe below the head.

Add two arms and a horizon line.

Trace with a black marker and fill in with colors.
More Baby Yoda Drawing Projects
More Pop Culture Drawing Projects