Easy How to Draw Baby Yoda Tutorial Video and Baby Yoda Coloring Page
Below you'll find an easy step-by-step tutorial for how to draw Baby Yoda Tutorial Video and a Baby Yoda Coloring Page. The simple shapes make it easy for all ages!
Baby Yoda Video Tutorial
Draw Baby Yoda
Who is Baby Yoda?
This little guy has been dubbed Baby Yoda, and is the apparent star of the new Disney Mandalorian series. He's suddenly everywhere, so an easy drawing tutorial to help elementary age students learn how to draw him seemed like a good idea. And if pop culture is what it takes to help connect more students to drawing, then so be it.

Note: Because Yoda's cuteness is all about his eyes, I shared a tip in my tutorial. If you lightly plan the eyes by starting with dots for the corners, before you connect them, then you have a much better chance of drawing them the same size. It's frustrating if you draw two beautiful eyes, and afterwards realize that one is a bit larger than the other.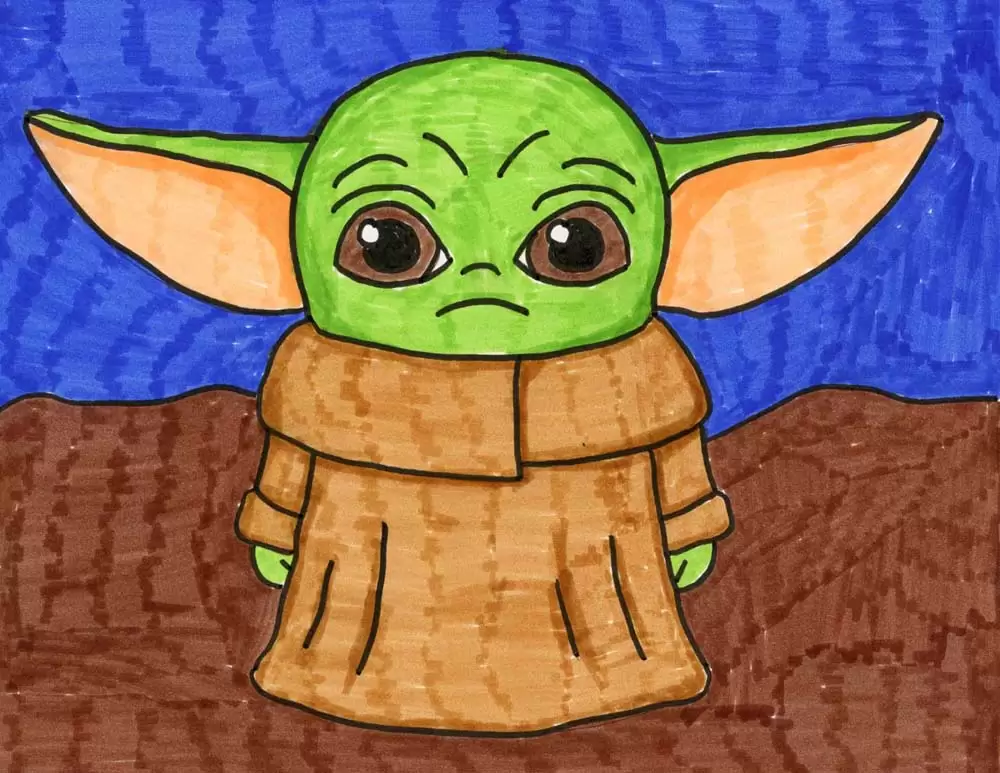 Working with Drawing Guides
The best way to get students off to a good start to any drawing project is to show them how to use guides as a reference point. You may have noticed that all of the tutorials on this site have center guides that are showing as both a vertical line and a horizontal line. If students make lines like those on their own paper, before drawing, they will have some extra help in seeing where to begin their drawing.

Drawing skills are all about getting the size and placement of lines on paper, so having some visual reference point to get started, will always help anyone learn how to be a little more accurate. So does that mean students need to use their pencil to draw big fat lines down the center of their paper before they start? No, simply fold the paper in half both ways, make a crease, and unfold. The beauty is that by the time the drawing is done and colored in, the creases will disappear
Subscribe to "The Daily Draw" below to get this free download!
Baby Yoda Coloring Page
NEW! Baby Yoda Tracing Page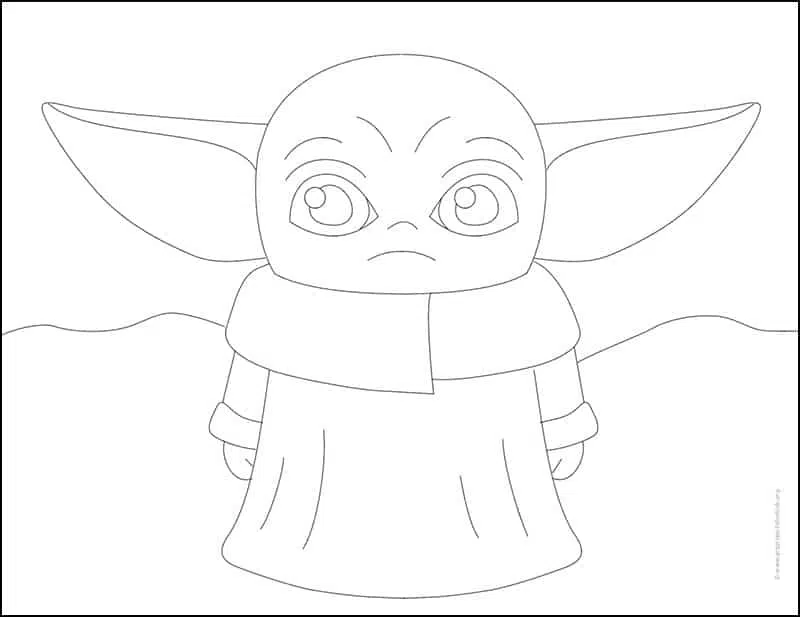 Baby Yoda Slide Show
Baby-Yoda-Slide-Show

How to Draw Baby Yoda Materials
Draw Baby Yoda Slide Show
Baby-Yoda-Slide-Show

How to Draw Baby Yoda Step by Step Directions
Time needed: 1 hour
How to Draw Baby Yoda Step by Step
Draw a curved head shape.

Add two symmetrical ears.

Draw the ear lines. Plan the eye placement with four dots.

Connect the dots and draw the eyes as shown.

Add circles for the highlights. Draw the brow lines above the eyes.

Finish the face with a mouth, nose and more brow lines.

Draw a large collar and a robe below the head.

Add two arms on the side and a horizon line in the background.

Trace the drawing with a black pen and color with markers.
Save me to your Pinterest Board!
How to Draw Baby Yoda in Space
Baby Yoda in Space Coloring Page
Baby Yoda Valentine Tutorial
More Cartoon Drawing Projects