Easy How to Draw Pete the Cat Tutorial and Pete the Cat Coloring Page
Below you'll find an easy step-by-step how to draw Pete the Cat tutorial and Pete the Cat coloring page. Scroll down to learn more and download yours for free.
Pete the Cat Drawing
Pete the Cat is a fictional cartoon cat, created by American artist James Dean. The series started with four books illustrated by Dean and with text by Eric Litwin. Since then, James Dean and his wife Kimberly Dean have written and illustrated the series of books.

The first book, Pete the Cat: I Love My White Shoes, is the story of a cat whose white shoes get mucked up by various substances he steps in, but "Pete never loses his cool." Written as a song, its refrain is "I love my white shoes", changing to "I love my red shoes", "I love my blue shoes", and "I love my brown shoes". Then he steps in a bucket of water and the colors wash off, and they became wet, but still never loses his cool, he just sings his song.

Older students might notice that this tutorial includes a little perspective as Pete's shoes that are closer are larger that those on his back feet. Younger artists can focus on just making the shoes match. As Pete would say, "It's all good."
Use the Button below to Download a PDF Tutorial
Pete the Cat Coloring Page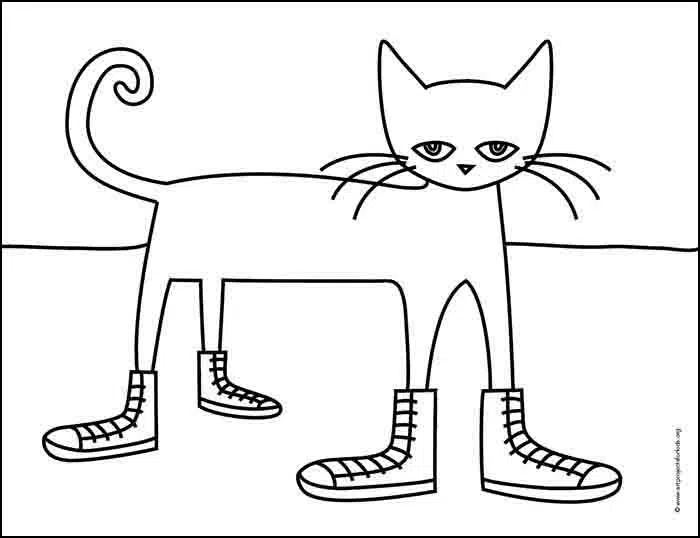 Materials for Drawing Pete the Cat
Drawing Paper. This is the good stuff you can buy in bulk for a good price.
Pencils. I like how this brand always makes nice dark lines.
Black Marker. A permanent marker will give you a dark black color.
Note: All of the above are Amazon affiliate links.
Directions to Draw Pete the Cat Step by Step
Time needed: 1 hour
How to Draw Pete the Cat
Start the body with the shape shown.

Add the head above it

Draw the eyes, nose, whiskers and a short neck.

Start the four legs.

Draw two front shoes.

Add two back shoes.

Draw details to all four shoes.

Draw a tail and horizon line.

Trace the drawing and color.
Save me to your Pinterest Board
More Fun Cartoon Drawing Projects