Easy How to Draw the Taj Mahal Tutorial and Taj Mahal Coloring Pa
Learn how to draw the Taj Mahal with the help of some grid paper. It makes all those symmetrical straight lines so much easier to do!
Drawing of Taj Mahal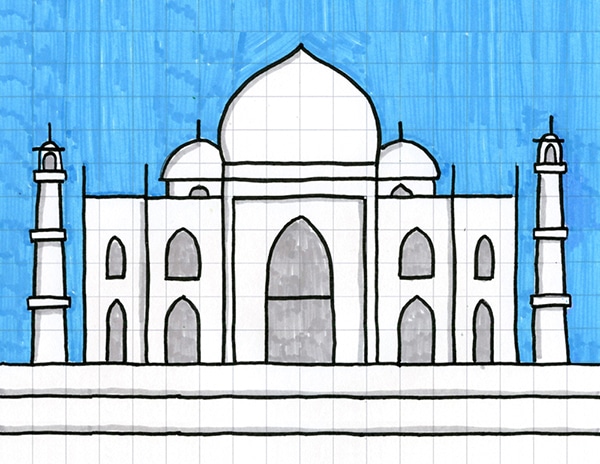 The Taj Mahal is considered one of the most beautiful buildings in the world. Located in the city of Agra, a ruler named Shah Jahan had the Taj Mahal built as a monument and tomb for his beloved wife, Mumtaz Mahal.
The monument is located on the bank of the Yamuna River and is surrounded by formal gardens and reflecting ponds. White marble and gemstones cover the outside of the Taj Mahal. Some 20,000 people worked on the monument, which took 22 years to build.
Drawing the Taj Mahal, in all its symmetrical beauty, gets a whole lot easier when working over light grid lines that are already on the paper. It eliminates the need for a ruler, which is can be a struggle, especially for young artists. The PDF tutorial that you can download has a grid template page included, so all teachers have to do is print one for each student.
Save me to your Pinterest Board!
Use the Button below to download a PDF Tutorial
Taj Mahal Coloring Page
Materials for Taj Mahal
Drawing Paper. This is the good stuff you can buy in bulk for a good price.
Pencils. I like how this brand always makes nice dark lines.
Black Marker. A permanent marker will give you a dark black color.
Note: All of the above are Amazon affiliate links.
Step by Step Directions for Taj Mahal
Time needed: 1 hour.
How to Draw the Taj Mahal
Draw bottom steps and center rectangle.

Add a slightly larger box around the rectangle.

Draw the symmetrical side panels.

Add the "onion dome" on top.

Add spires and two smaller tops.

Draw all the window and door arches.

Draw the left tower.

Add a matching right tower.

Trace with marker and color the sky. Add shadows if you wish.
More Building Drawing Projects