How to Draw Frankenstein Tutorial Video and Frankenstein Coloring Page
Below you'll find an easy step-by-step Frankenstein tutorial video and Frankenstein Coloring Page. There's even a Frankenstein Meets Picasso lesson added too!
Draw Frankenstein
Frankenstein Tutorial Video
You can never have too many how to draw Frankenstein tutorials, as there are just too many ways to play around with his iconic Halloween face and body. Make him cute and cartoony, or artsy fartsy, or extra simple for the kinders. His recognizable face is a great draw this time of year, when Halloween is pretty much all that young minds can think about.
This new tutorial focuses on just Frankenstein's face, with giant eyes that students can anime up if they wish. No matter what, his lowered brow made of one continuous line is the start of a very expressive look. It's a great example of just how much can be said with the eyes.
Getting Started with Drawing Guides
The best way to get students off to a good start to any drawing lesson is to show them how to use guides as a reference point.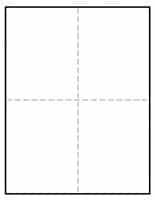 You may have noticed that all of the tutorials on this website have a dashed vertical line and horizontal line running through the center of each step. If students make their own centered lines on their own paper, before drawing, they will have an easy reference to follow.
For instance, as seen in Step 1 below, Frankenstein's head starts with a centered shape that almost touches the top of the paper, and is 3/4 of the way down to the bottom. It's important to draw that head large enough so there's room for his famously large forehead.
When students get their drawing off to a good start, there's a better chance of them feeling successful by the time they are done. Drawing skills are all about getting the size and placement of lines on paper. Having some visual reference point to get started, will always help anyone learn how to be a little more accurate.
So does that mean students need to get out a ruler to draw a big line down the center of their paper before they start? No, that will most likely be hard to erase and distract from any finished art. Instead, they simply fold the sheet of paper in half both ways, make a crease, and unfold. The beauty is that by the time the drawing is done and colored in, the creases will disappear.
And now, on to the Frankenstein drawing project.
Pin Me to Your Pinterest Board
Use the Button below to Download a PDF Tutorial
Frankenstein Coloring Page
Materials for a Frankenstein Drawing
Drawing Paper. This is the good stuff you can buy in bulk for a good price.
Pencils. I like how this brand always makes nice dark lines.
Black Marker. A permanent marker will give you a dark black color.
Note: All of the above are Amazon affiliate links.
Directions to Draw a Frankenstein Face Step by Step
Time needed: 30 minutes.
How to Draw Frankenstein's Face
Draw a large U with a flat top. Make the corners rounded.

Add the hair and one long brow line.

Start the eye shapes underneath the brow line.

Add the inside eyes, nose and the mouth shapes.

Draw two ears near the hair line.

Add two screw shapes to the side of the head.

Draw the shoulders and the jacket collar below the head.

Finish the coat and add some stitch lines.

Trace the drawing with a marker and color with crayons.
Frankenstein Meets Picasso
Have your Halloween drawing project do double duty by adding a little lesson in cubism to the mix. The result might be an extra creative-looking portrait of Frankenstein (or Frankenstein's monster, if you like to be precise). As a quick refresher, Cubism was an art movement that began in the early 1900s by Pablo Picasso and Georges Braque. It aimed to show all of the possible viewpoints of a person or an object all at once. Given that Frankenstein was also pieced together, making a cubist version of his face with a profile and front view, just kind of makes sense. It's a fun Halloween drawing project that gives a nod to the season, and to art history.
This student used Sharpie Brush markers on finger paint paper to get his very colorful result. If you're not familiar with these markers, they have all the really rich color of Sharpies, but with a brush tip. They let students color with much more solid results than the regular hard tips. *Note, the image has an affiliate link.
Another Franken student drawing

Teacher sample, for reference
Use the Button below to download a PDF Tutorial
Frankenstein Meets Picasso Coloring Page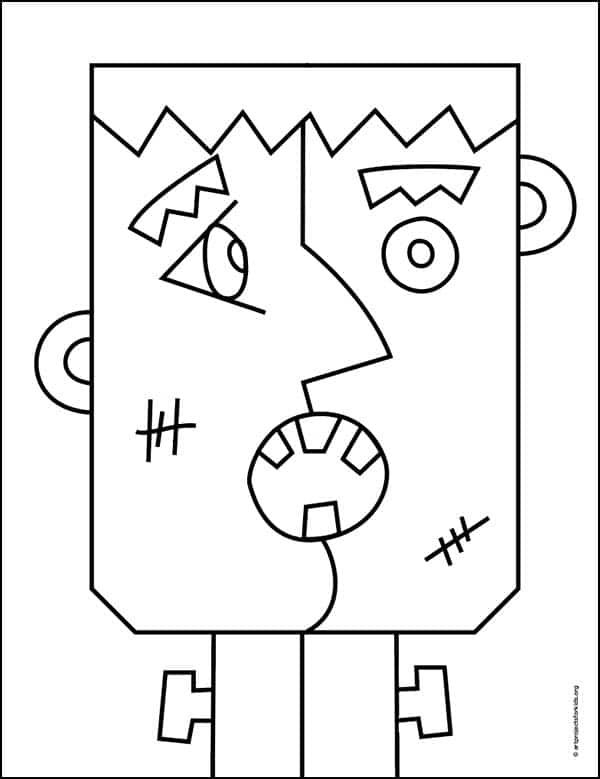 More Frankenstein Drawing Projects