Learn how to draw a cactus and add a bit of shading to make it look more dimensional. A step by step tutorial makes it really easy.
Drawing of a Cactus
A basic saguaro cactus in a desert landscape is one of my favorite things to draw. Here are just a few reasons why:
The basic shapes are pretty easy for artists of all ages.
They really start to look dimensional when you add the LINES (an Element of Art).
They really pop when you change the VALUE (another Element) of the edges by making them darker.
Spread out a few cacti of varying sizes and you have a lovely desert landscape with SPACE.
A tip for drawing all those rib lines (the more the better!) is that they are easier to space if students draw them in stages. For instance, after drawing two or three lines evenly spread out at first, come back and splitting each section in half with another line, and repeat until there is no more room. Remember, the real ribs are not stick straight so wobbly lines are actually better than something that looks made by a ruler.
Finally, if your students like the look of the sample cactus shown above, it was made by coloring the entire shape with a light yellow green first, and then adding a darker green on top afterwards. The goal is to have a soft transition and having that light green under everything really helps.
Save me to your Pinterest Board!
Use the Button below to Download a PDF Tutorial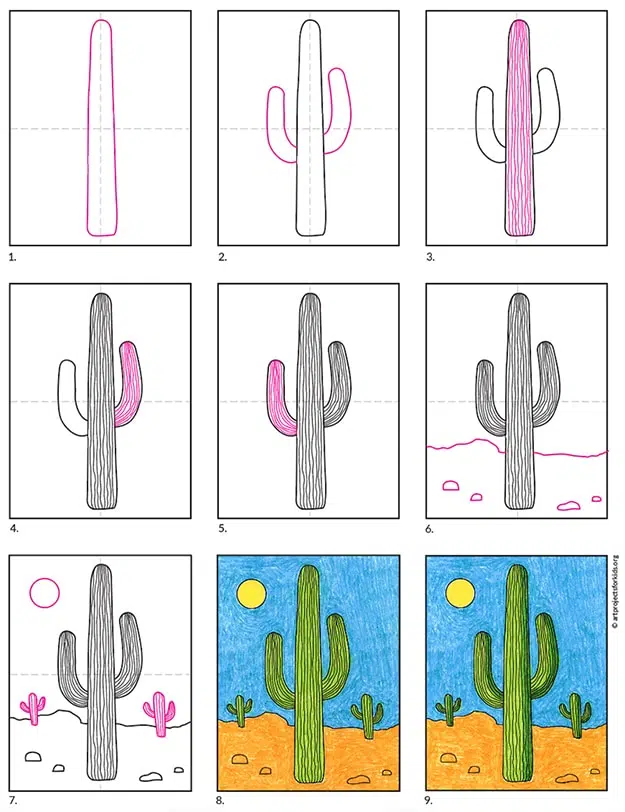 Cactus Coloring Page
Materials for Cactus Project
Black Sharpie Marker. These fine point permanent marker pens make nice black outlines, have a good tip for coloring, and never bleed when they get wet. Use them with good ventilation and add extra paper underneath to protect your tables.
Prang Crayons. These are a bit softer than other crayons so they sometimes look like oil pastels. They also have a some nice brown shades that Crayola does not have unless you buy their larger boxes.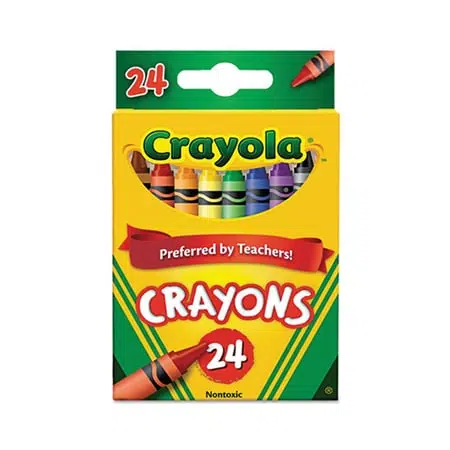 Crayola Crayons. The reliable brand that always works well. The 24 pack has some of my favorite golden orange and yellow colors that seem a bit richer and warmer than the ones Prang has.
Step by Step Directions for Cactus Project
Time needed: 1 hour.
How to Draw Cactus
Draw the main cactus trunk.

Add the two arms on the sides.

Draw rib lines in the center.

Add lots of rib lines on the right arm.

Draw lots of rib lines on the left arm.

Add a horizon line and rocks.

Draw smaller cacti and a sun.

Trace with a marker and color.

Add darker green crayon to one side.
More Landscape Projects