Easy How to Draw Cactus Tutorial and Cactus Coloring Page
Below you'll find an easy step-by-step tutorial for how to draw a Cactus and a Cactus Coloring Page. A bit of shading to make it look more dimensional.
Drawing of a Cactus
A basic saguaro cactus in a desert landscape is one of my favorite things to draw. Here are just a few reasons why:
The basic shapes are pretty easy for artists of all ages.
They really start to look dimensional when you add the LINES (an Element of Art).
They really pop when you change the VALUE (another Element) of the edges by making them darker.
Spread out a few cacti of varying sizes and you have a lovely desert landscape with SPACE.
A tip for drawing all those rib lines (the more the better!) is that they are easier to space if students draw them in stages. For instance, after drawing two or three lines evenly spread out at first, come back and splitting each section in half with another line, and repeat until there is no more room. Remember, the real ribs are not stick straight so wobbly lines are actually better than something that looks made by a ruler.
Finally, if your students like the look of the sample cactus shown above, it was made by coloring the entire shape with a light yellow green first, and then adding a darker green on top afterwards. The goal is to have a soft transition and having that light green under everything really helps.
Use the Button below to Download a PDF Tutorial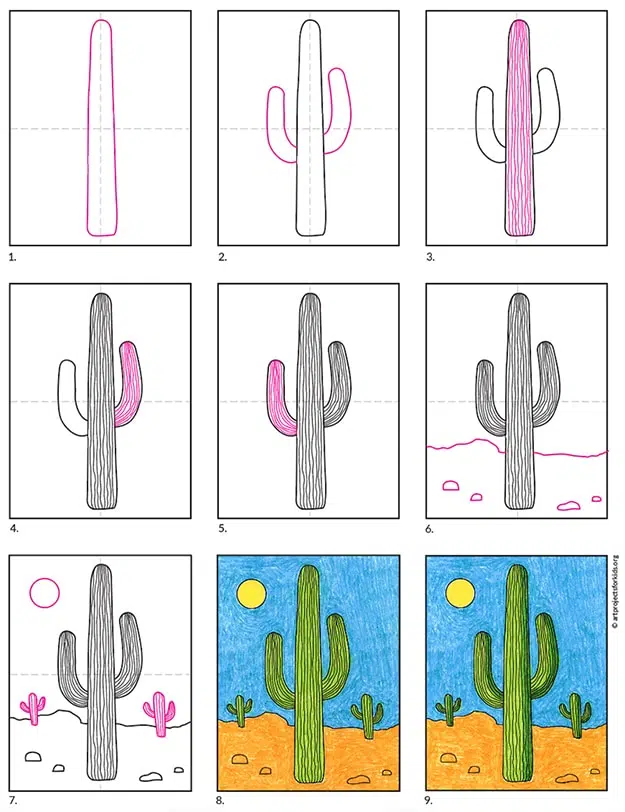 Cactus Coloring Page
Materials for Cactus Project
Step by Step Directions for Cactus Project
Time needed: 1 hour.
How to Draw Cactus
Draw the main cactus trunk.

Add the two arms on the sides.

Draw rib lines in the center.

Add lots of rib lines on the right arm.

Draw lots of rib lines on the left arm.

Add a horizon line and rocks.

Draw smaller cacti and a sun.

Trace with a marker and color.

Add darker green crayon to one side.
How to Paint a Cactus
Here's a tutorial for drawing a potted cactus. It makes a great watercolor resist project as the white crayon lines look just like the needles of a cactus, when brushed over with some watercolor paint. For best results, I highly recommend using real watercolor paper. The paint colors will be so much richer, which will make the white lines stand out even more!
More Cactus Inspiration
Another fun combination is white glue, black paper and chalk pastel. This project comes from my way back archives, before I even made tutorials. The projects is basically drawing a large cactus with white glue on black paper, letting it dry overnight, and then coloring with chalk pastels. The chalk lines stay black, and add a bit of texture to the drawing too! You can download this image in a PDF below, as I hope it's helpful for anyone that really wants to try this out.
Paper Craft Cactus Inspiration
Clay Cactus Inspiration
More Landscape Projects