This Paul Klee inspired children's art project will show students how to turn their lines into simple shapes, just like he did to make his abstract paintings.
Paul Klee was a Swiss-German artist who became one of the most famous painters of the 20th century. He made over 9000 paintings in his lifetime, despite being drafted into the war for a time.
Klee's father was a German music teacher and his mother was a Swiss singer. As a young boy he started to follow in his parent's footsteps and train as a musician, but by the time he was a teenager, he became inspired by visual art.
In 1911 Paul Klee became friends with Kandinsky, and in 1912 he traveled to Paris and was inspired by Cubism and Delaunay's brave use of color.
In 1914 Klee's art changed dramatically during a visit to Tunisia. He was impressed by the quality of light there, and wrote, "Color has taken possession of me; no longer do I have to chase after it, I know that it has hold of me forever… color and I are one. I am a painter."
This tutorial was inspired by Klee's famous Castle and Sun painting, and will guide students to draw a very simple building shape, with a door, tower and windows. Afterwards, they are free to fill everything in with as many colors as they wish.
Use the Button below to Download a PDF Tutorial
Paul Klee City Coloring Page
Materials for How to Draw a City like Paul Klee
Black Sharpie Marker. These fine point permanent marker pens make nice black outlines, have a good tip for coloring, and never bleed when they get wet. Use them with good ventilation and add extra paper underneath to protect your tables.
Prang Crayons. These are a bit softer than other crayons so they sometimes look like oil pastels. They also have a some nice brown shades that Crayola does not have unless you buy their larger boxes.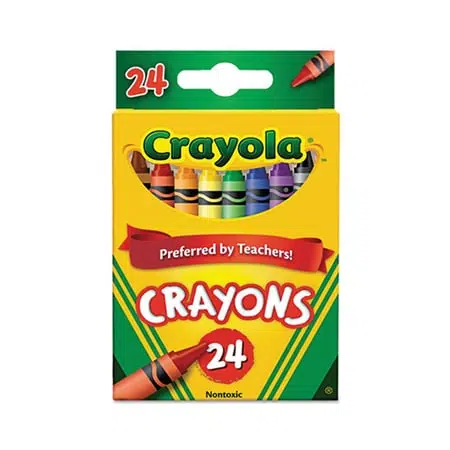 Crayola Crayons. The reliable brand that always works well. The 24 pack has some of my favorite golden orange and yellow colors that seem a bit richer and warmer than the ones Prang has.
Directions for How to Draw a City like Paul Klee
Time needed: 45 minutes.
Draw a City like Paul Klee
Draw a rectangle.

Add a rectangle and half circle inside.

Draw lines to make squares inside the rectangle.

Add a triangle and more lines.

Draw a rectangle and triangle roof to make a tower.

Add two more wall lines.

Draw lines to make more rectangles.

Add picket line shapes and a circle for a sun.

Trace with a pencil crayon and color.