Easy How to Draw the Tree of Life Tutorial and Tree of Life Coloring Page
Below you'll find an easy step-by-step tutorial for how to draw the Tree of Life and a Tree of Life Coloring Page. It borrows a few fun ideas from Gustav Klimt's famous Tree of Life painting.
Tree of Life Drawing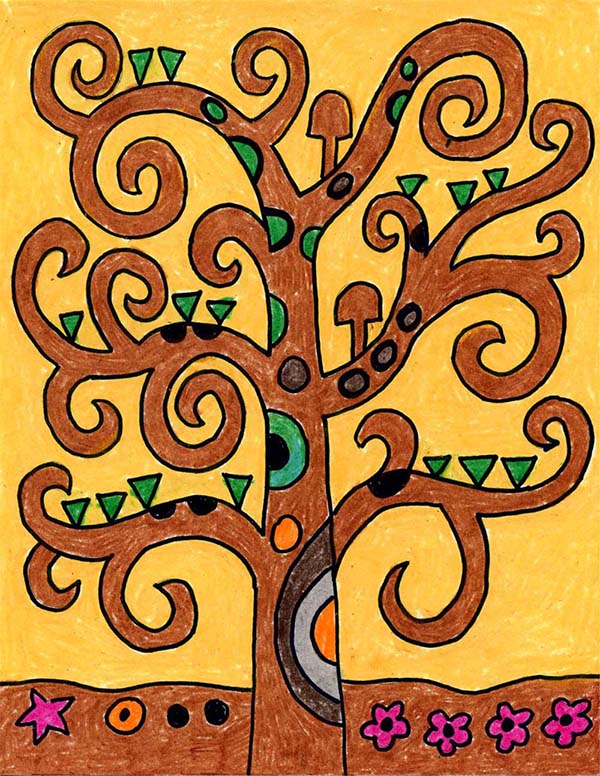 Artists have been drawing stylized trees for centuries, and some can get pretty complex. This tutorial will show students how to draw the Tree of Life with lots of curly details, but taking them on one step at a time. It was inspired by an artist named Gustav Klimt, who liked to lots of symbols in his work. Hence, the triangles for leaves, stars for flowers, ovals for tree rings, and so on.
Gustav Klimt, an Austrian artist, created his "Tree of Life" painting in the early 1900s. He was interested in the decorative qualities of art, because lots of artists before him were still making very dark and conservative work. He helped to start a group called the Vienna Secession, who were artists rebelling against the old way, and wanted new ideas for the turn of the century.
By borrowing a few of Klimt's ideas, and his obvious love of curly shapes, students can see what happens when they draw the fanciest tree they can imagine!
Use the Button below to download a PDF Tutorial
Save me to your Pinterest Board!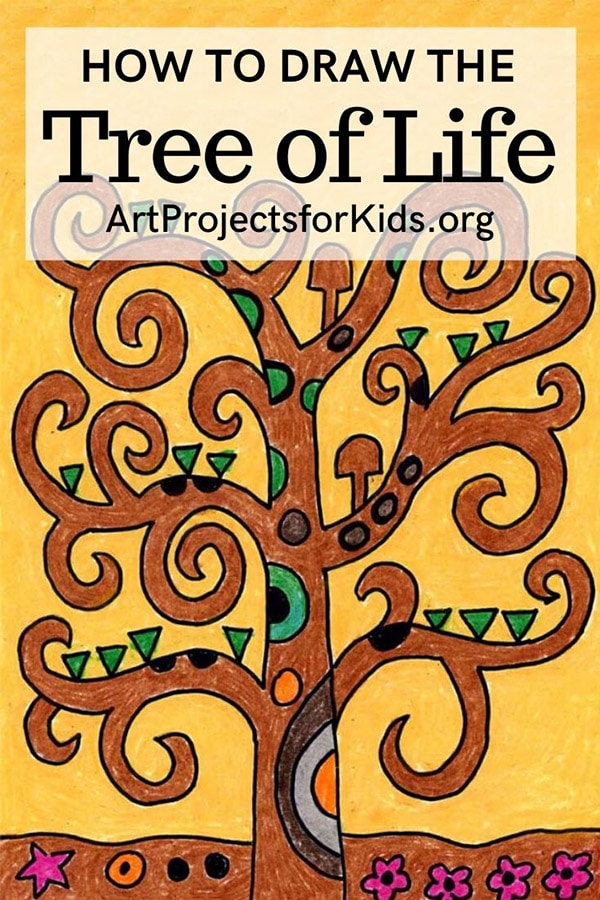 Tree of Life Coloring Page
Klimt's Tree of Life Coloring Page
Materials for Tree of Life Drawing
Drawing Paper. This is the good stuff you can buy in bulk for a good price.
Pencils. I like how this brand always makes nice dark lines.
Black Marker. A permanent marker will give you a dark black color.
Note: All of the above are Amazon affiliate links.
Directions to Draw Tree of Life Step by Step
Time needed: 1 hour.
Draw the Tree of Life
Start two curly sides of the tree.

Complete the top curvy branches.

Draw the ground line and the lower branches.

Add two middle branches.

Starting at the bottom, add smaller branches.

Continue adding smaller branches.

Add decorative shapes: triangles, mushrooms, spots.

Add flowers and decorations to the ground.

Trace with a marker and color with crayons.
More Fine Art Drawing Project Ideas