Easy How to Draw the Mesa Verde Tutorial and Mesa Verde Coloring Page
Below you'll find an easy step-by-step tutorial for how to draw the Mesa Verde and a Mesa Verde Coloring Page.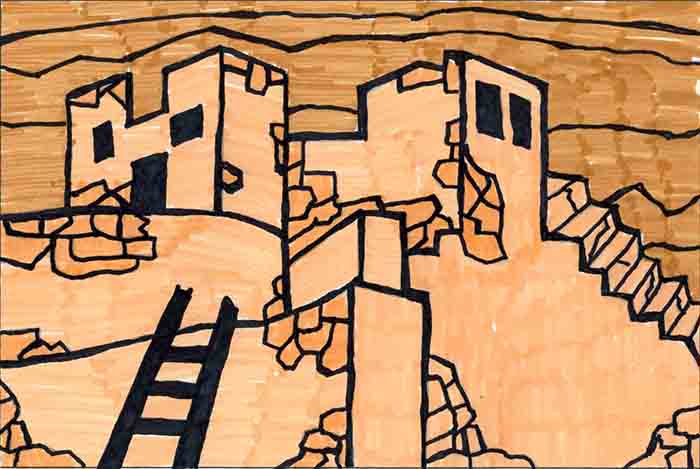 Some of the most notable and preserved cliff dwellings in North America are those of the Mesa Verde in Colorado. The structures range from one-room granaries to villages of more that 150 rooms. This tutorial will help students draw just a corner of these dwellings, which is all you need to get a sense of how they are nestled into the mesa tops.
One tip to help get the monotone coloring in the drawing, like you see in the sample above, is to layer the marker color. Most markers on drawing paper will create a darker shade of that color when you go over it several times, which really comes in handy when adding a few shadows here and there.
Use the Button below to download this tutorial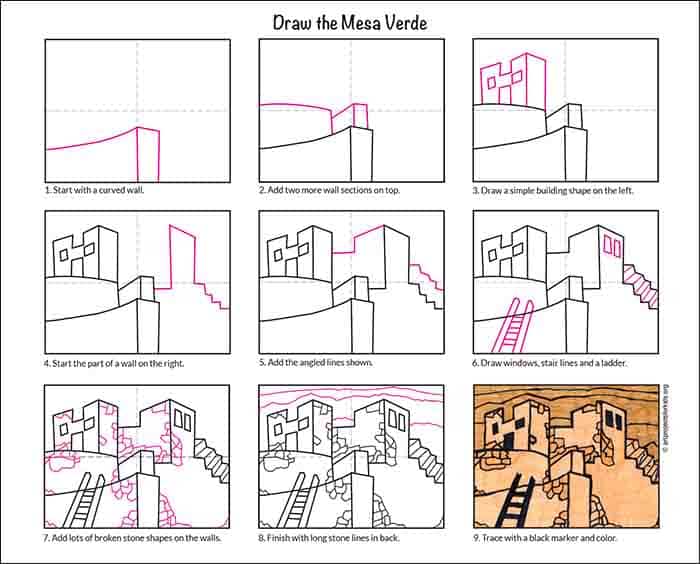 Mesa Verde Coloring Page
Materials to Draw the Mesa Verde
Drawing Paper. This is the good stuff you can buy in bulk for a good price.
Pencils. I like how this brand always makes nice dark lines.
Black Marker. A permanent marker will give you a dark black color.
Note: All of the above are Amazon affiliate links.
Step by Step Directions for a Mesa Verde Drawing
Mesa Verde Drawing Step by Step
Start with a curved wall.

Add two more wall sections on top.

Draw a simple building shape on the left.

Start part of the wall on the right.

Add the angled lines as shown.

Draw windows, stair lines and a ladder.

Add lots of broken stone shapes on the walls.

Finish with long stone lines in back.

Trace with a black marker and color, adding layers to create shadows.
More historical landmarks to draw