Easy How to Draw a Mayan Temple for Cinco de Mayo and Mayan Temple Coloring page
Learn how to draw a Mayan temple, with the help of a step by step tutorial and grid paper. Add it to your Cinco de Mayo celebrations!
Mayan Temple Drawing
Now students can learn how to draw the Mayan temple with a download that will help all of them make just about the neatest Mayan temple possible. No need to free hand all those lines, and no need to struggle with a ruler either. Nope, just print the included grid on drawing paper and students can use the light lines as guides. They can concentrate on making them symmetrical, and then coloring as neatly as possible. Those looking for an extra challenge can add more layers of marker for a subtle shadow.
Use the Button below to download a PDF Tutorial
Mayan Temple Coloring Page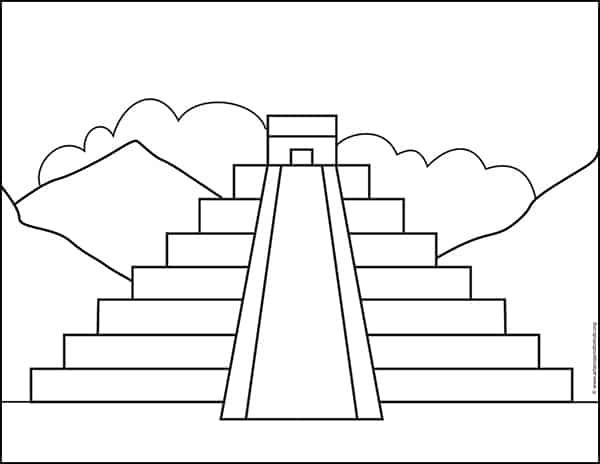 Materials for Mayan Temple Drawing
Drawing Paper. This is the good stuff you can buy in bulk for a good price.
Pencils. I like how this brand always makes nice dark lines.
Black Marker. A permanent marker will give you a dark black color.
Note: All of the above are Amazon affiliate links.
Directions to Draw a Mayan Temple Step by Step
Time needed: 1 hour.
How to Draw a Mayan Temple
Print the grid. Draw a rectangle.

Add the angled shape below.

Draw the ground line two lines up.

Draw the first two rows of steps.

Add two more rows above.

Finish with the last three rows.

Add the center details shown.

Draw the mountain background and sky.

Trace with a marker and color.
More Landmark Tutorials