Easy How to Draw the Parthenon Tutorial and Parthenon Coloring Page
Below you'll find an easy step-by-step tutorial for how to draw the Parthenon and a Parthenon Coloring Page. This facade is true to the original, with its eight symmetrical columns.
Parthenon Drawing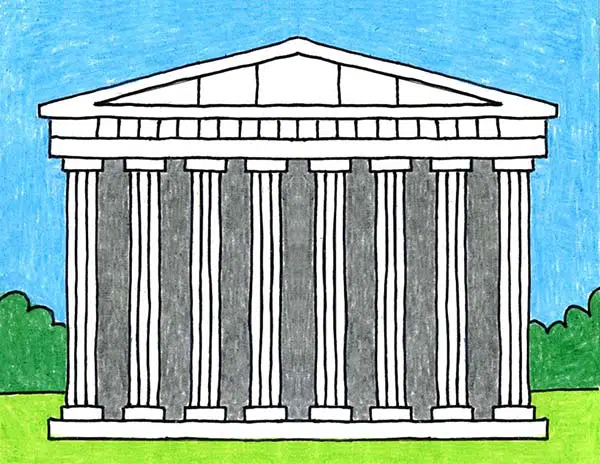 The Parthenon is a temple in the middle of the Acropolis in Athens, Greece. It was a temple to honor the goddess Athena. It was built between 447 BC and 432 BC. It is considered one of ancient Greece's greatest architecture accomplishments. This tutorial with show students how to draw the Parthenon in a way that keeps the important details, without being too overwhelming.
Getting Started with Drawing Guides
The best way to get students off to a good start to any drawing lesson is to show them how to use guides as a reference point.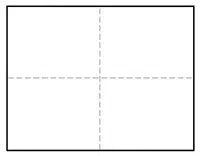 You may have noticed that all of the tutorials on this site have a dashed line running through the center of each step, in both horizontal and vertical directions. If students make their own centered lines on their own paper, before drawing, they will have an easy reference to follow.
Drawing skills are all about getting the size and placement of lines on paper, so having some visual reference point to get started, will always help anyone learn how to be a little more accurate.
So does that mean students need to get out a ruler to draw a big fat line down the center of their paper before they start? No, that's totally not necessary. The lines would most likely be hard to erase and distract from any finished art. Instead, simply fold the sheet of paper in half both ways, make a crease, and unfold. The beauty is that by the time the drawing is done and colored in, the creases will disappear.
And now, on to the Parthenon drawing project.
Use the Button below to download a PDF Tutorial
Save me to your Pinterest Board
Parthenon Coloring Page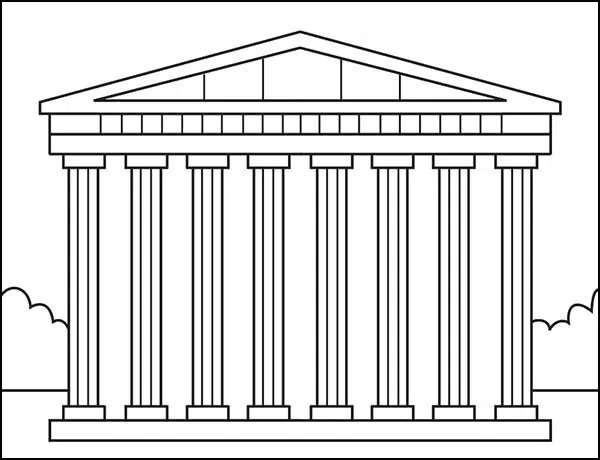 Materials for Parthenon Drawing
Directions to Draw Parthenon Step by Step
Time needed: 45 minutes.
How to draw the Parthenon
Draw the top triangle.

Add the panel below the triangle.

Draw the base, making sure it has the same width.

Start the tops of the 8 columns. Be sure to center them on each side.

Finish the 4 columns on the right side.

Finish the 4 columns on the left side.

Add two vertical lines inside each column.

Draw the top details and add some landscaping.

Trace the drawing with a marker and color.
You might also like these famous building drawing projects