Easy How to Draw Overlapping Buildings Tutorial and Buildings Coloring Page
Below you'll find an easy step-by-step tutorial for how to draw a Overlapping Buildings and Coloring Page. Angled roof lines will make them look dimensional.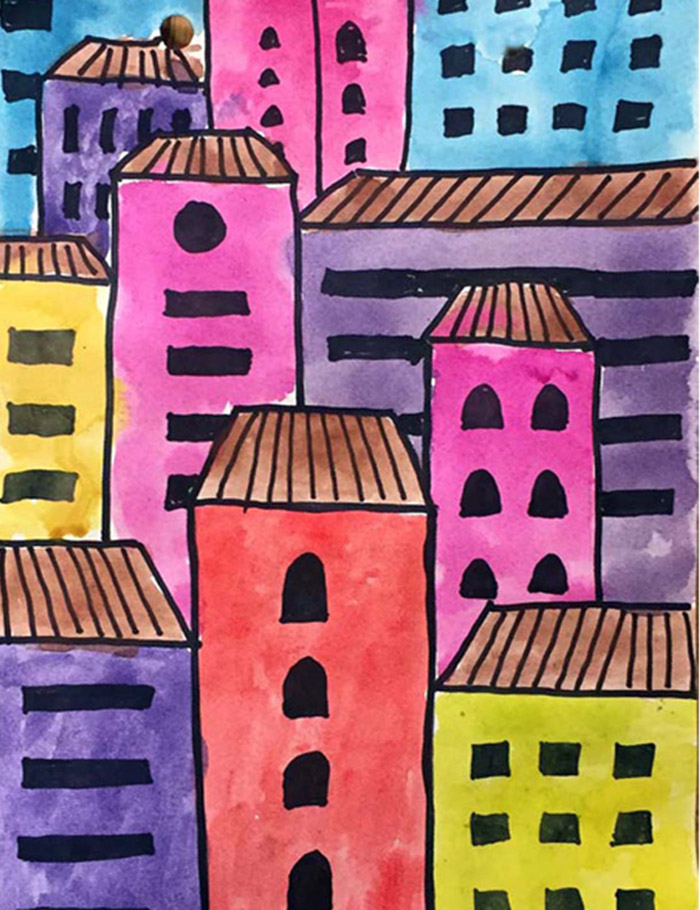 If your students love to draw buildings, but are maybe not quite ready to learn any rules about 3D, this is a fun project to just play around with. The roof lines are kind of angled, but can go any which way. The end result is a fun hodge podge that fills up the page, which always makes for a more colorful picture.
Use the Button below to download a PDF Tutorial
Overlapping Buildings Coloring Page
Materials
Drawing Paper. This is the good stuff you can buy in bulk for a good price.
Pencils. I like how this brand always makes nice dark lines.
Black Marker. A permanent marker will give you a dark black color.
Note: All of the above are Amazon affiliate links.
Step by Step Directions
Time needed: 1 hour.
How to Draw Buildings
Draw three touching rectangles.

Add angled roof tips and lines.

Draw lots of windows in each.

Draw another layer of rectangles.

Add angled roof tops and lines.

Draw lots of windows in each.

Fill in the top with more buildings.

Add windows in each.

Trace with permanent marker and paint.
Student Inspiration
More Building Drawing