Learn how to draw a cartoon frog with a cute and happy face. A step by step tutorial makes it easy and fun for all ages.
Frog Drawing
Cartoon drawings are often more about personality than realism. The very best cartoon artists spend years figuring out how to make a few simple lines can convey an attitude, and though they make it look easy, there's a lot of practice behind it.
Imitating cartoon drawings is a great way for young artists to get started though. The simple shapes are easy to see, and drawing something recognizable can be a real confidence builder.
This frog is simple (and symmetrical) so even younger elementary students would probably do well trying him out. Don't skip the tracing step though, as strong black lines make him or her easier color, and lend more to a cartoon look when finished too.
Preview of the Cartoon Frog tutorial
Save me to your Pinterest Board!
Frog Coloring Page
Materials for Frog Drawing
Black Sharpie Marker. These fine point permanent marker pens make nice black outlines, have a good tip for coloring, and never bleed when they get wet. Use them with good ventilation and add extra paper underneath to protect your tables.
Prang Crayons. These are a bit softer than other crayons so they sometimes look like oil pastels. They also have a some nice brown shades that Crayola does not have unless you buy their larger boxes.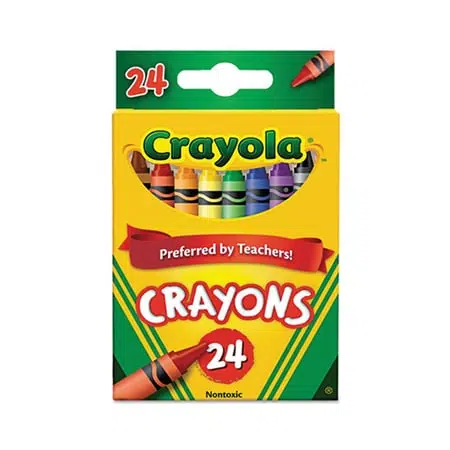 Crayola Crayons. The reliable brand that always works well. The 24 pack has some of my favorite golden orange and yellow colors that seem a bit richer and warmer than the ones Prang has.
Step by Step Directions for Frog Drawing
Time needed: 25 minutes.
How to Draw a Cartoon Frog
Draw a very large oval for the head.

Add two upside down U shapes.

Erase inside and draw two simple eyes.

Add the mouth, dots for nose. Draw U for chest.

Draw the two arms with bumps.

Add curvy lines to make the fingers.

Draw two symmetrical back legs.

Add toe lines. Draw a grass line and sky.

Trace with marker and color.
How to Draw a Jumping Frog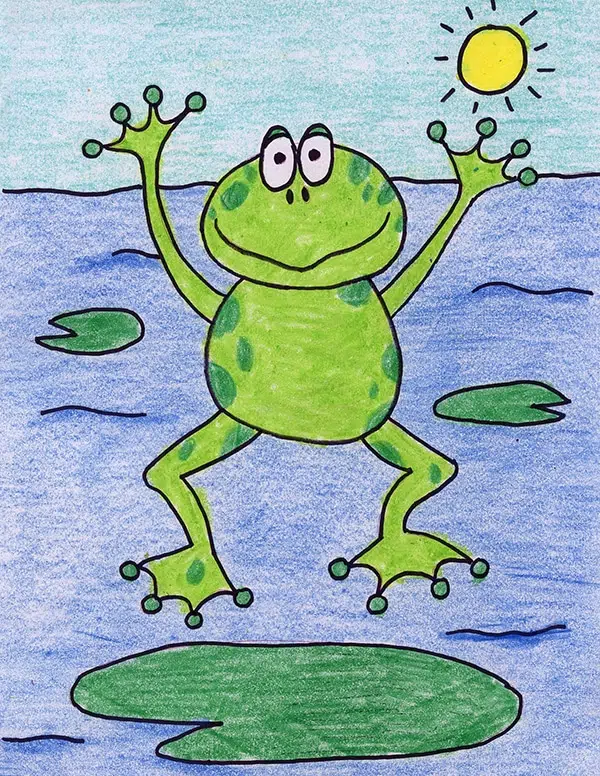 Use the Button below to download a PDF Tutorial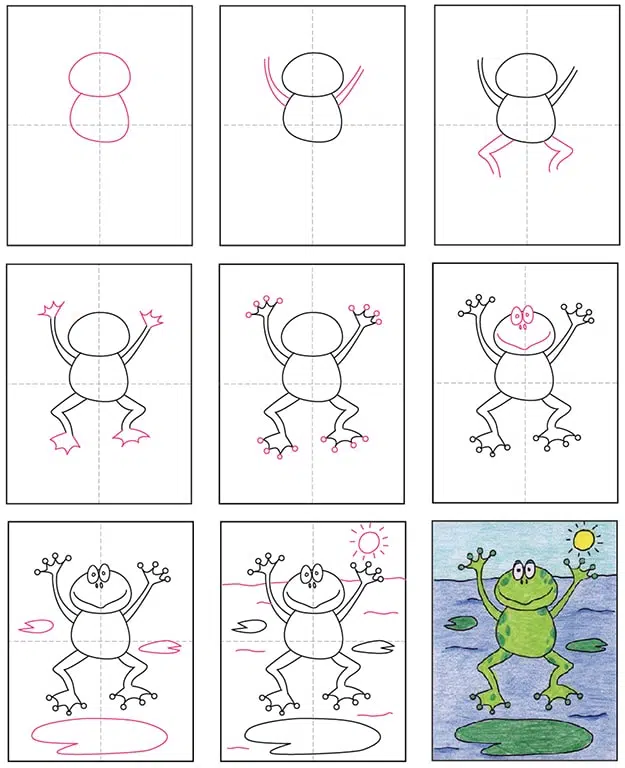 Jumping Frog Coloring Page
More Animal Projects