Easy How to Draw a Mushroom House Tutorial and Mushroom House Coloring Page
Below you'll find an easy step-by-step tutorial for how to draw a Mushroom House and Coloring Page.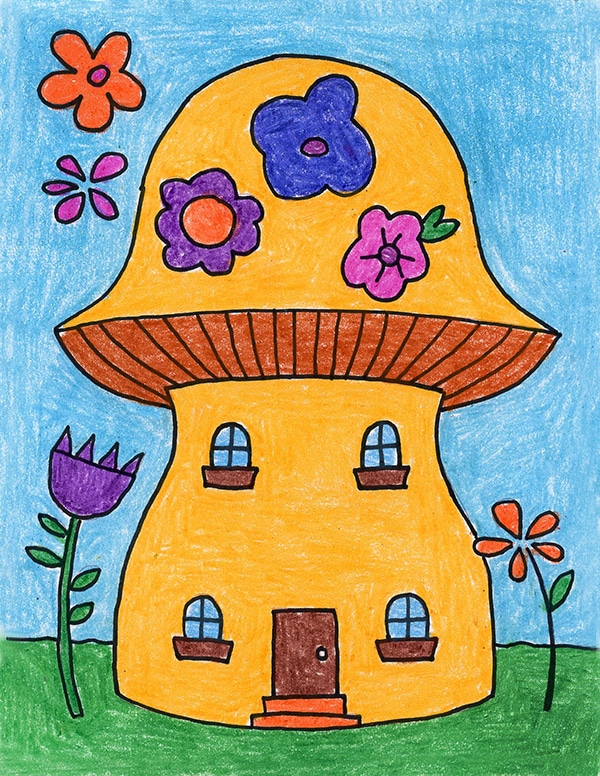 Mushroom Houses are small whimsical dwellings for fairies to live in. This one is based on the shape of a mushroom and borrows the idea of having a "cap" for a roof. The best thing about learning how to draw a fairy house, is that it can tap into all kinds of creative possibilities.
Aside from the fun elements though, this lesson could also teach a lesson about one of the Principles of Design. Proportion, which is shows the scale of something, can only be seen when there is something of reference that makes a shape look large or small. This house will look tiny when any flowers around it look as big as trees. There's a hint of this going on in my sample drawing, but the notion could be pushed even further, by making the flowers even larger. Or smaller. Those choices are part of what makes drawing so much fun!
Use the Button below to Download a PDF Tutorial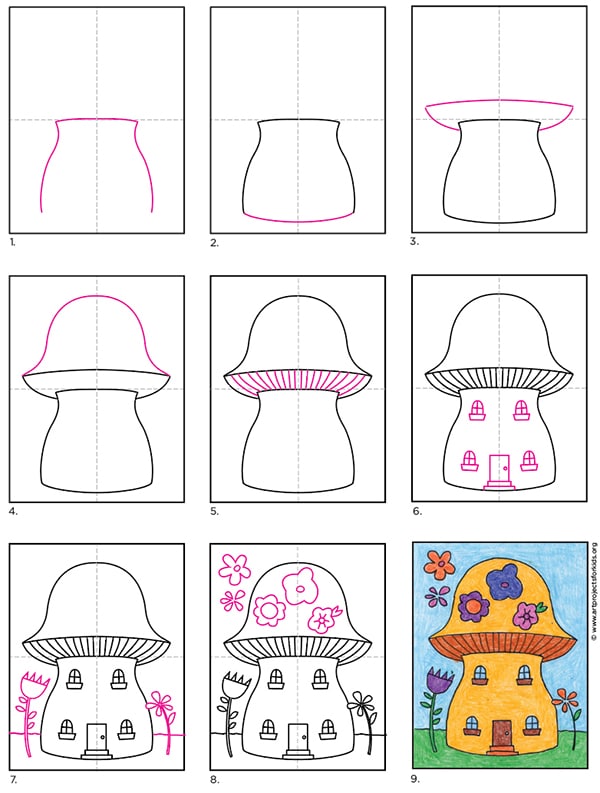 Mushroom House Coloring Page
Materials to Draw a Mushroom House
Step by Step Directions to Draw a Mushroom House
Time needed: 45 minutes.
How to Draw a Mushroom House
Start to draw the stem shape as shown.

Connect the bottom with a curved line.

Start the mushroom cap as shown.

Finish the cap shape as shown.

Draw lots of radial lines underneath the cap.

Create a house out of the stem, by adding windows and a door.

Draw a horizon line and some large tree like flowers.

Finish the roof with some flower decorations.

Trace the drawing with a marker and color with crayons.