Add an easy Delaunay art project to your lesson plans, with this fun abstract project. You can even add some new vocabulary with new words like "concentric" and "dissected".

Robert Delaunay, an abstract artist from the early 1900s, made some wonderful paintings known for their rhythm and color.
This project uses his style of creating many concentric circles, and splitting just a few in half. It leaves the page with a pattern of circles and half circles, which you can highlight with your choice of colors.
LIKE THIS PROJECT?
It's from my "Elements of Art" ebook, which includes:
25 Art Journal Projects (12 based on famous artists, and 13 based on various Elements of Art)
*Worksheets for the "Elements of Art" and
Sleeve art as shown so you can create your own binder. Just click on the book or title to learn more.
*The above product links are referrals. If you click through and take action, I'll be compensated a small amount, at no extra expense to you.
DIRECTIONS
HIGHLY RECOMMENDED: The Circle Template tool from The Creative Coach. It's transparent quality lets students line up concentric circles with ease.
PAPER RECOMMENDATION: Finger paint paper will make the colors pop but it is hard to erase. It's great for older students.
Fill the page with circles of all sizes.
Draw concentric circles inside each.
Split some circles in half with a ruler.
Trace and color. To have students create an image with harmony, have them choose about 5 colors they like, and then repeat them throughout the drawing.
AND FOR A FOLLOW UP PROJECT? How about a large Delaunay Mural? Everyone colors one page, and together you have a larger masterpiece.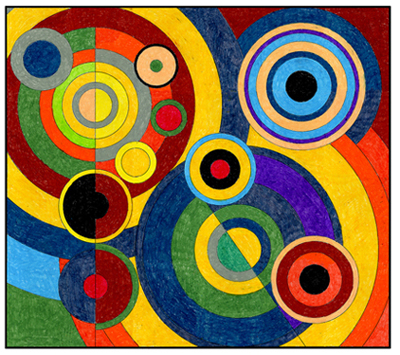 MORE SAMPLES: