Learn how to draw an easy Frankenstein with this step by step tutorial. He's made from some pretty simple shapes, but still has that classic hunched back.
Easy Frankenstein Drawing
What makes about how to draw Frankenstein easy enough for even, say kinders or first graders to take on?
Well, it starts with a large and simple head, that sits right in the top middle of the paper. It must have the flat top, a choppy looking hairline, and attached screws, of course.
Then it helps to make the body with one LARGE upside down U shape. It will look like the hunch back that Frankenstein is famous for, and add an easy way to attach two hands and a torn looking hemline.
The finished proportions all make up for a Frankenstein drawing that fills the paper and can be finished with all kinds of creative details. Maybe a trick or treat bucket attached to a hand? Or lots of torn patches on his clothes? Or a full moon or ghost or two in the background? All kinds of possibilities!
Just be sure to tell students to color carefully. This sample was made with just some ordinary crayons, but with lots of pressure to get some really dark colors. It's the reason why that bright green face really stands out from that rich, purple shirt he is wearing.
Use the Button below to Download a PDF Tutorial
Frankenstein Coloring Page
Materials for an Easy Frankenstein Drawing
Black Sharpie Marker. These fine point permanent marker pens make nice black outlines, have a good tip for coloring, and never bleed when they get wet. Use them with good ventilation and add extra paper underneath to protect your tables.
Prang Crayons. These are a bit softer than other crayons so they sometimes look like oil pastels. They also have a some nice brown shades that Crayola does not have unless you buy their larger boxes.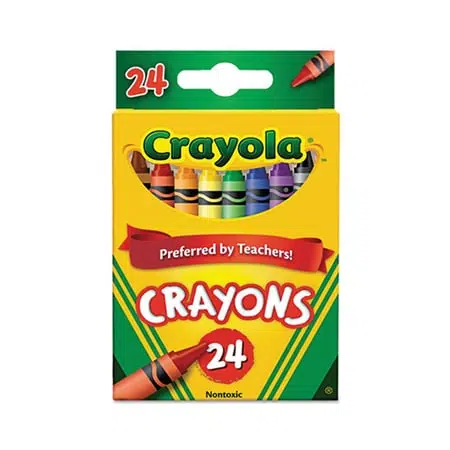 Crayola Crayons. The reliable brand that always works well. The 24 pack has some of my favorite golden orange and yellow colors that seem a bit richer and warmer than the ones Prang has.
Directions to Draw Frankenstein Step by Step
Time needed: 30 minutes.
How to Draw Frankenstein Step by Step
Start the head with three straight lines.

Add the chin and a zig zag hair line.

Draw the eyes, nose, mouth and the screws.

Draw the shoulders with one large upside down curve shape.

Add the sleeves at the bottom of the curve.

Draw the zig zag hem line of the shirt.

Draw two simple legs and feet.

Add two hands and a horizon line.

Trace the drawing with a marker and color.
How to Draw a Cartoon Frankenstein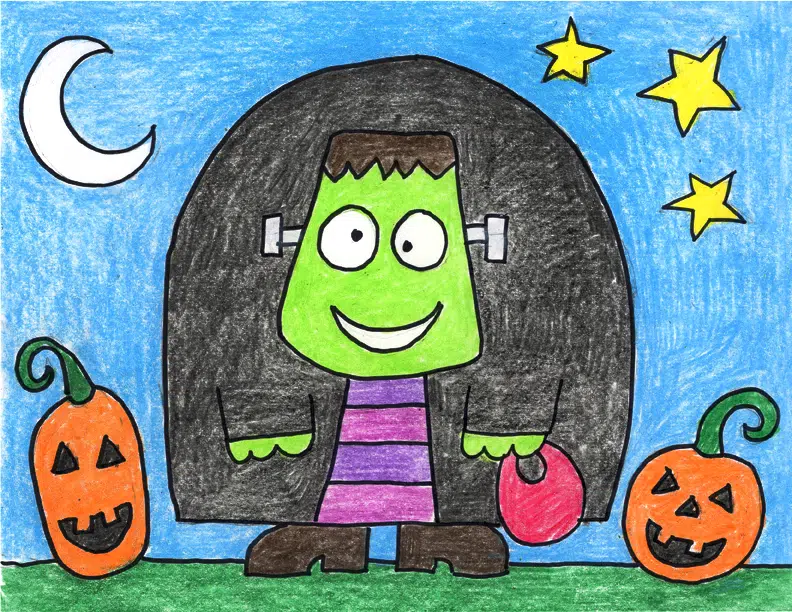 More Fun Frankenstein Drawing Projects