Easy How to Draw Simple Flowers Tutorial and Simple Flowers Coloring Page
Learn how to draw simple flowers in all different shapes and sizes. Leaving some white space around them will make the colors extra bright.
If your students seem to always draw the same type of flower, a new "how to draw simple flowers" tutorial might give them some extra inspiration. For instance, daisies are very pretty, and easy to draw, but there are so many other possibilities. Flowers can have tulip shapes, circle shapes, extra sizes, extra layers of petals and fuzzy lines. The goal is to have a variety so students can have practice drawing all kinds of different lines, and filling them with lots of colors.
Once the flowers are traced with a permanent marker, this little white edge trick will not only make them look brighter, it will keep colors from running together. All you have to do, once the flowers have been filled in, is to remind students to not paint the blue to the edges of anything. If they leave a little "glow" around everything, their colors will all stay true and puddles should stay at a minimum.
Use the Button below to Download a PDF Tutorial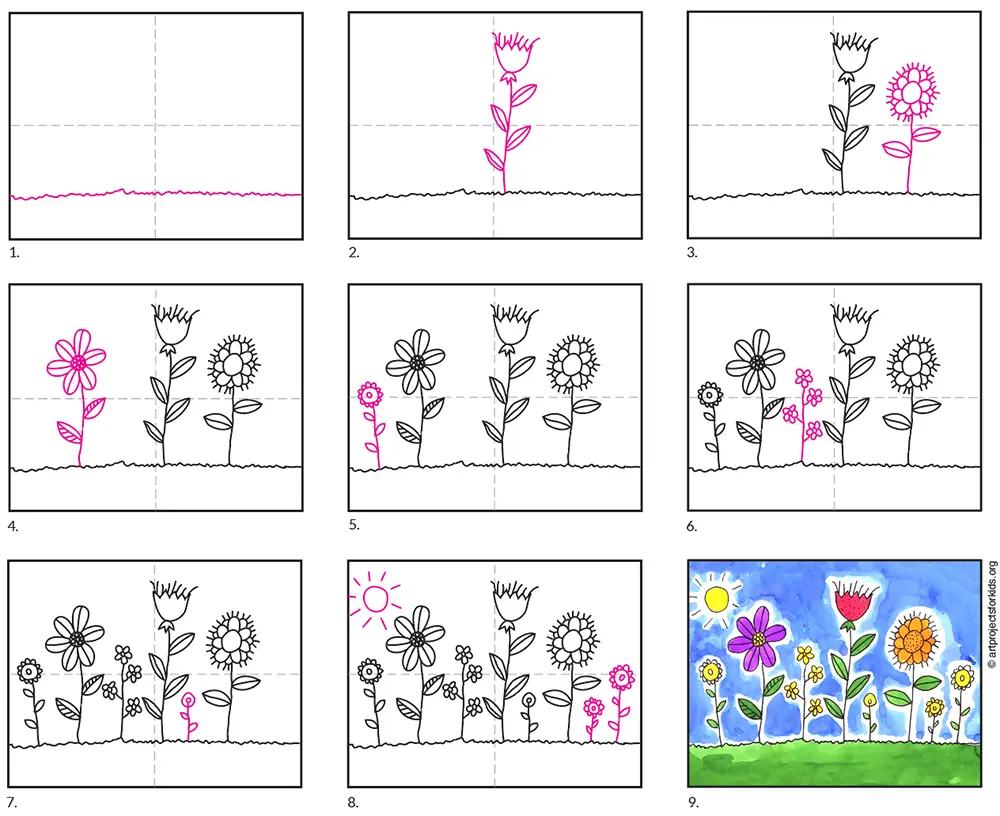 Simple Flowers Coloring Page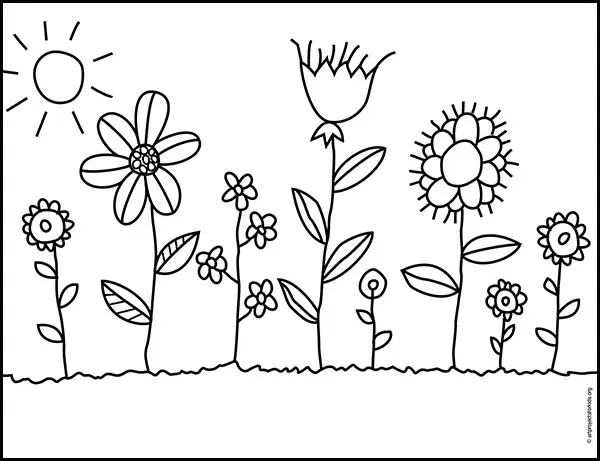 Materials for How to Draw Simple Flowers
Drawing Paper. This is the good stuff you can buy in bulk for a good price.
Pencils. I like how this brand always makes nice dark lines.
Black Marker. A permanent marker will give you a dark black color.
Note: All of the above are Amazon affiliate links.
Directions for How to Draw Simple Flowers
Time needed: 25 minutes.
How to Draw Simple Flowers
Start with a wiggly line for the ground.

Draw a large flower in the center.

Add another type of large flower on the right.

Draw a third large flower on the left.

Add a smaller type flower to the very left.

Draw another smaller flower as shown.

Draw a teeny flower to fill in as shown.

Add two more small flowers. Finish with a sun.

Trace with a permanent marker. Paint the flowers
and grass. Paint the sky and leave white space.
More Flower Drawing Projects