Below you'll find an easy step-by-step tutorial for how to draw a Hot Dog and a Hot Dog Coloring Page. It's easy to draw one that looks good enough to eat when you have a step by step tutorial to follow.
Now kids have a little help in learning how to draw a Hot Dog. But rather than just guessing at what they remember their last one looking like, they can draw one with detailed mustard, relish and a realistic bun. A step by step tutorial makes it super easy to do.
Here are a few fun facts from the National Hot Dog and Sausage Council:
Hot Dogs were first sold at baseball games in 1893.
President Franklin D. Roosevelt served hot dogs to King George and Queen Elizabeth. The king ate two.
During peak hot dog season, from Memorial Day to Labor Day, Americans are expected to consume 7 billion hot dogs.
On Independence Day, Americans are expected to enjoy 150 million hot dogs, enough to stretch from D.C. to L.A. more than five times.
Use the Button below to Download a PDF Tutorial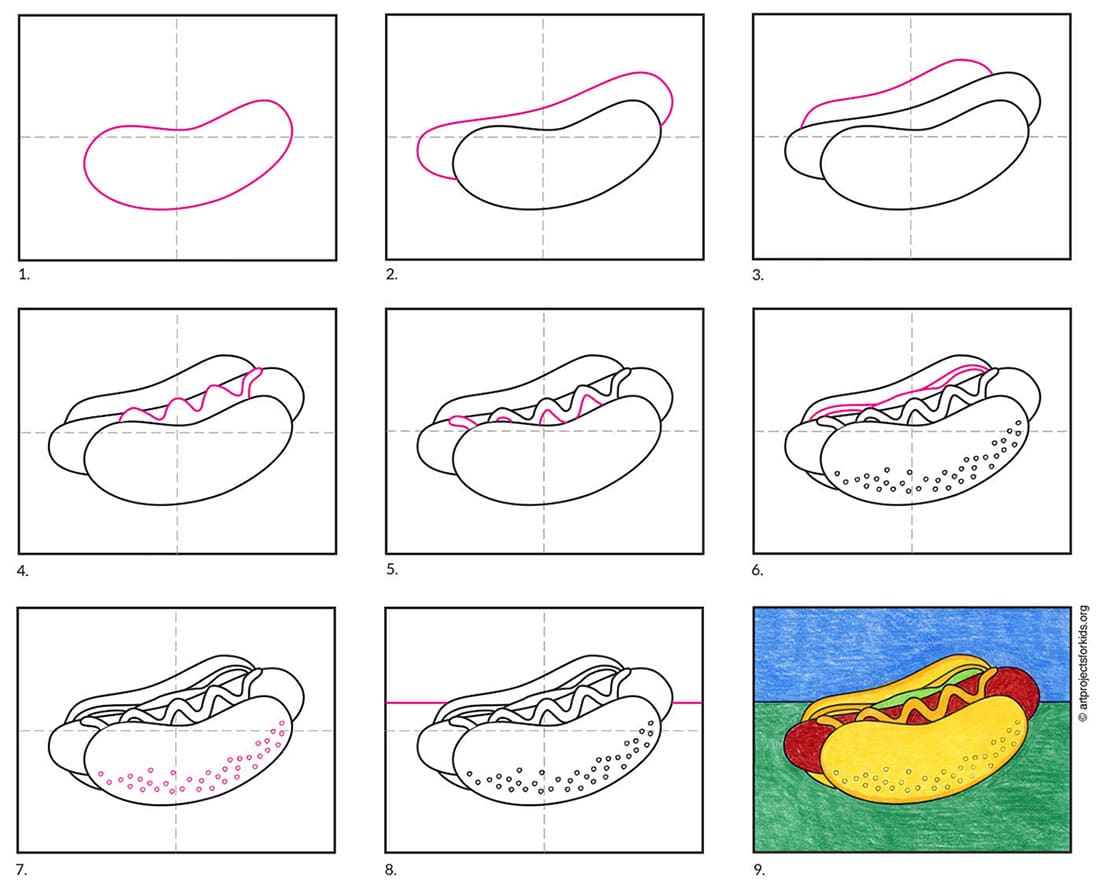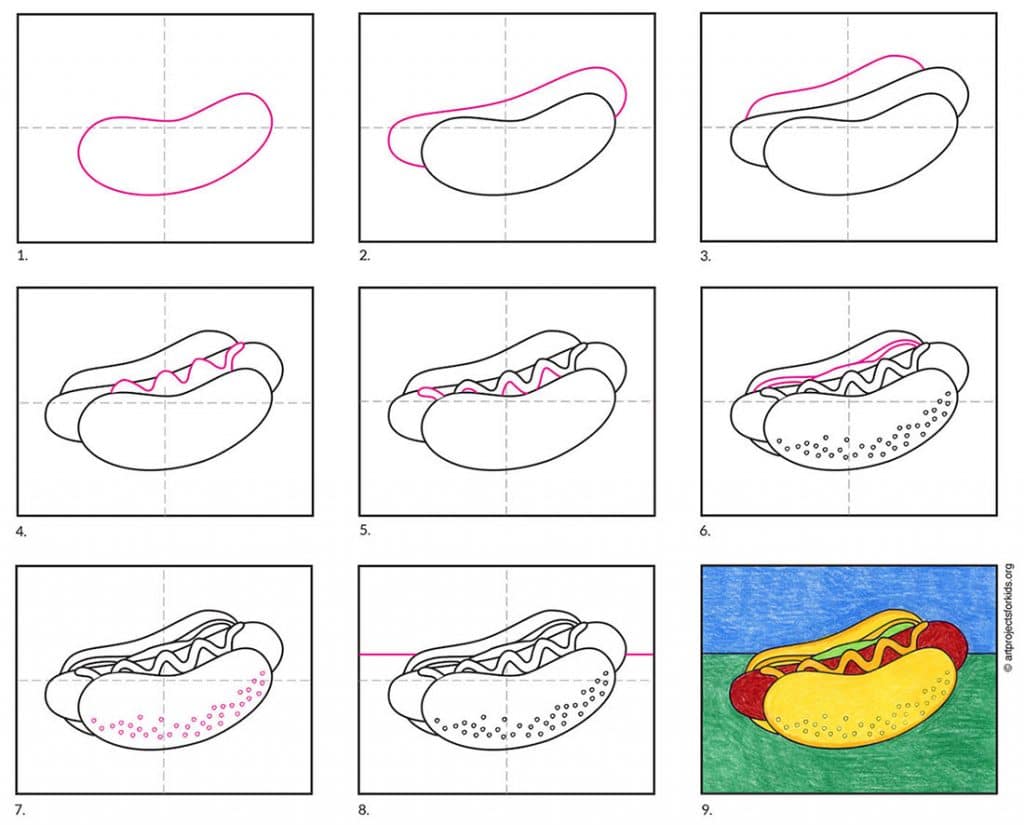 Hot Dog Coloring Page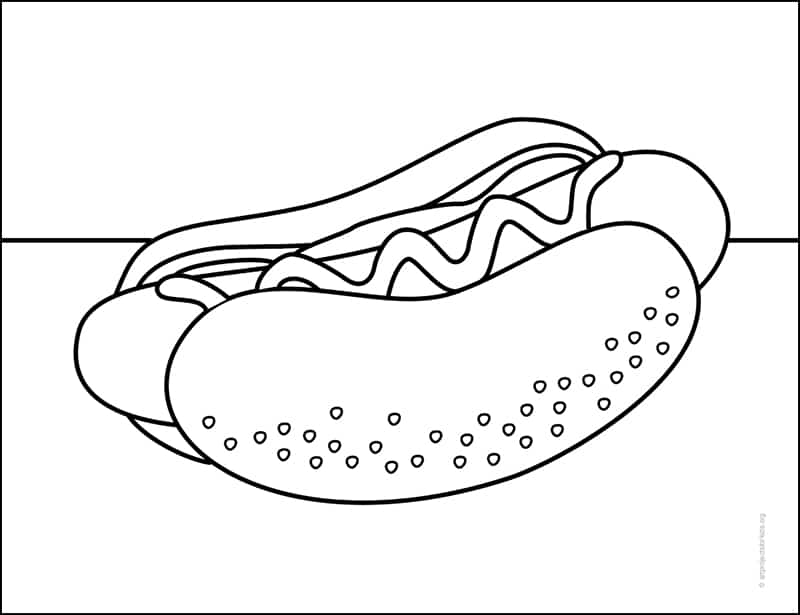 Hot Dog Tracing Page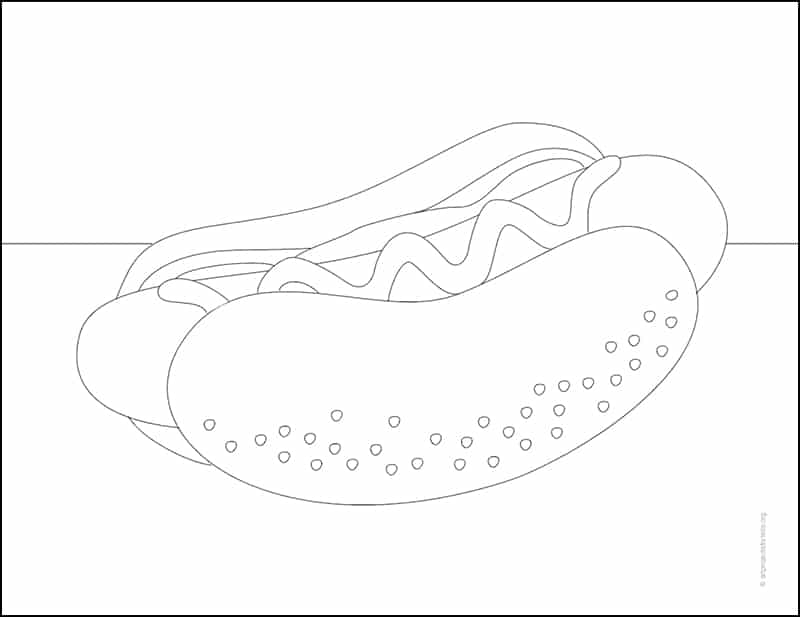 Materials for a Hot Dog Drawing
Drawing Paper. This is the good stuff you can buy in bulk for a good price.
Pencils. Don't waste your money on the cheapest brand. These make nice dark lines.
Black Marker. The perfect medium size tip marker for tracing.
Crayons. I like this non-toxic brand that is made from beeswax, not petroleum by-products.
Note: All of the above are Amazon affiliate links.
Directions to Draw a Hot Dog Step by Step
Time needed: 45 minutes.
How to Draw a Hot Dog
Draw one side of the bun.

Add the hotdog behind.

Draw the back bun.

Start a squiggle of mustard.

Finish the squiggle of mustard.

Add some relish or more mustard.

Lightly draw lots of seeds on the bun.

Finish with a table line.

Trace with a marker and color.
Save me to your Pinterest Board!
More Fun Food Drawing Projects