Easy How to Draw a Witch Tutorial Video and Witch Coloring Page
Learn how to draw a witch with this easy step by step tutorial video. Keep things creative by focusing on just her shoes and stockings.
Witch Tutorial Video
If your students have an interest in learning how to draw a witch for Halloween, here's a solution that makes the most of all your options out there. This witch tutorial takes the focus off of what her face may or may not look like, and has fun with just her stockings and shoes. Those curly-toed boots make an adorable silhouette, and are good symmetry drawing practice too.
Please note that if you would like to try this with younger classes, say first and second grade, I highly recommend that you make a boot template that students can trace and flop and trace again. While you may have a few students that can "see" how to draw the boots on their own, I found that on average, only older students tend to be able to work this out on their own. Not to worry though, they lesson of symmetry is still there, as they will learn by flipping their template to make a right and left boot.
This project has been a favorite of mine for years, and works in all kinds of media. May favorite though, as shown to the right, is with crayon and watercolors. I used real watercolor paper and liquid watercolor paint to get the bright colors shown here. The supplies cost a little more, but are well worth the investment, if you ask me.
Join the "Daily Draw" below and get this free download!
Witch Coloring Page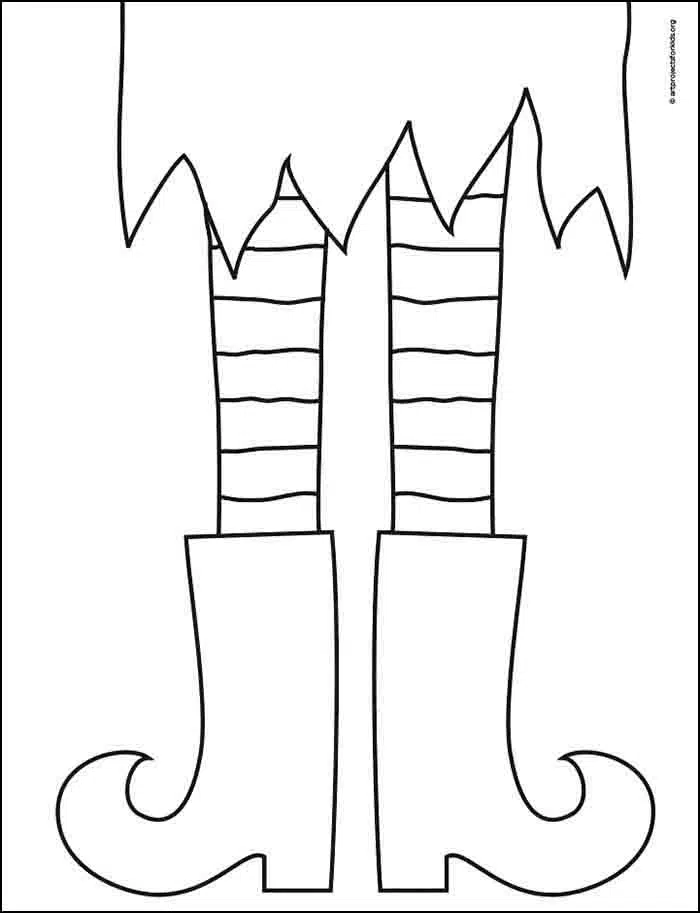 Materials for a Witch Drawing
Drawing Paper. This is the good stuff you can buy in bulk for a good price.
Pencils. I like how this brand always makes nice dark lines.
Black Marker. A permanent marker will give you a dark black color.
Note: All of the above are Amazon affiliate links.
Directions to Draw a Witch Step by Step
Time needed: 45 minutes.
How to draw Witch Feet
Start the right boot.

Finish the toe and heel.

Start the left boot.

Finish the toe and heel.

Draw a hemline on the top of the page.

Connect to the boots with leg lines.

Add stripes to the legs.

Draw the shoelaces and a spider.

Trace with a marker and color.
Student Inspiration
More Fun Halloween Drawing Projects