Easy How to Draw a Scarecrow Face Tutorial Video and Scarecrow Coloring Page
Learn how to draw a Scarecrow Face with this step by step tutorial video. The simple shapes make it easy for artists of all ages. Scroll all the way down to see what it can look like as a watercolor resist project.
Scarecrow Face Video
This scarecrow face drawing project is great for really young artists as it's very easy to draw. The face, hat and shirt are all made with just a few curved and straight lines so students can get to adding their own flourishes in no time.
A scarecrow is a decoy or mannequin in the shape of a human, Wikipedia explains. It is usually dressed in old clothes and placed in open fields to discourage birds such as crows or sparrows from disturbing and feeding on recently cast seed and growing crops.
The scarecrow is mostly a storybook figure these days, which most might connect to the United States. It actually has a history throughout Europe and other countries as well. It turns out that scarecrows have been in existence for more than 3,000 years, and even date back to the time of the pharaohs in Egypt!
This tutorial will show students how to focus on the scarecrow face, but leaves lots of room for customization. Patches on the hat, or pockets on the shirt will all add some extra fun, and then possibly some extra color. You can't have too much of that in a fun fall drawing.
Pin me to your Pinterest Board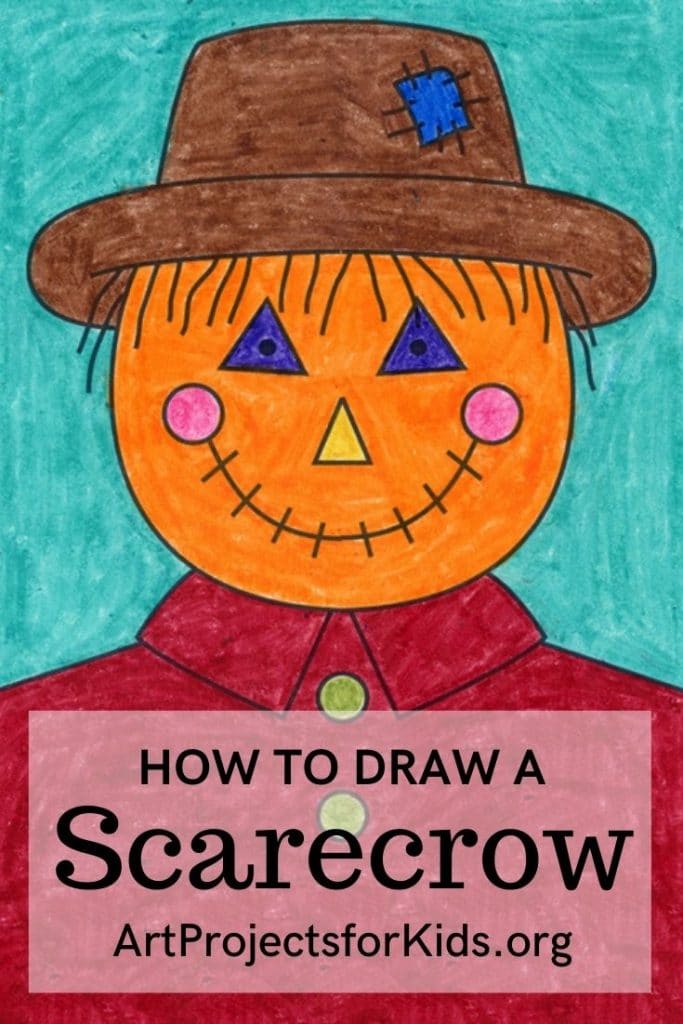 Join my Email List below to get this instant download!
Scarecrow Face Coloring Page
Materials for a Scarecrow Face Drawing
Drawing Paper. This is the good stuff you can buy in bulk for a good price.
Pencils. I like how this brand always makes nice dark lines.
Black Marker. A permanent marker will give you a dark black color.
Note: All of the above are Amazon affiliate links.
Directions to Draw a Scarecrow Face Step by Step
Time needed: 30 minutes.
How to Draw a Scarecrow Face
Draw the face with a large U shape.

Add a rim at the top of the head.

Draw the top of the hat.

Draw two triangle eyes.

Add a large smile on the face.

Finish the face with nose and stitch lines.

Draw some straw hair.

Add a shirt and a patch on the hat.

Trace the drawing with marker and color.
Another Option, Watercolor Resist Scarecrow Painting
More Fall Art Drawing Projects