Easy How to Draw a Scarecrow Tutorial Video and Scarecrow Coloring Page
Below you'll find an easy step-by-step tutorial for how to draw a Scarecrow Tutorial video and a Scarecrow Coloring Page. There are two fun options to choose from!
Scarecrow Drawing
Scarecrow Video Tutorial
Teachers who prefer drawing lessons that include some educational benefits need not worry. This scarecrow, though made of stuffed body parts, is a good example of basic body proportions. The length of the arms to compared to the legs is something a lot of students don't often think about, and can always use more practice with. There's also a lesson in symmetry, as whatever is one side of the body, generally needs to be on the other (patches not included!). The original use of a scarecrow was to frighten away birds from crops. Made from old clothes and stuffed with hay, their job was to be a decoy more than anything else. Today, students that would like to learn how to draw a scarecrow have this simple tutorial to help them draw something that many like to enjoy this time of year.
Getting Started with Drawing Guides
The best way to get students off to a good start to any drawing lesson is to show them how to use guides as a reference point.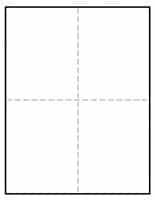 You may have noticed that all of the tutorials on this website have a dashed vertical line and horizontal line running through the center of each step. If students make their own centered lines on their own paper, before drawing, they will have an easy reference to follow.
For instance, as seen in Step 1 below, this sketch starts with a head and hat that sits on the middle line of the paper, halfway up from the horizontal line. It needs to be that high so that the waist can land on the middle line, and so one. Having lines help students see that placement more accurately.
When students get their drawing off to a good start, there's a better chance of them feeling successful by the time they are done. Drawing skills are all about getting the size and placement of lines on paper. Having some visual reference point to get started, will always help anyone learn how to be a little more accurate.
So does that mean students need to get out a ruler to draw a big line down the center of their paper before they start? No, that will most likely be hard to erase and distract from any finished art. Instead, they simply fold the sheet of paper in half both ways, make a crease, and unfold. The beauty is that by the time the drawing is done and colored in, the creases will disappear.
And now, on to the scarecrow drawing project.
Join "The Daily Draw" to get this instant download!
Scarecrow Coloring Page
Materials to make a Scarecrow Drawing
Drawing Paper. This is the good stuff you can buy in bulk for a good price.
Pencils. I like how this brand always makes nice dark lines.
Black Marker. A permanent marker will give you a dark black color.
Note: All of the above are Amazon affiliate links.
Directions to Draw a Scarecrow Step by Step
Time needed: 45 minutes.
Draw a Scarecrow Step by Step
Draw a hat and a face below it.

Start the shirt with the two sleeves.

Draw the pants below the shirt, and cuffs on the bottom.

Add the face and the straw hair.

Draw an overall bib and add patches.

Add more straw for the hands and feet and add a post.

Draw the hills and sky in the background.

Add corn in the foreground.

Trace the drawing with marker and color.
How to Draw an Old Scarecrow
And because there are many, many different ways to draw a scarecrow, here's another option that has a bit of fun with the aged look. The face is lopsided, and the clothes are more torn and patched and appear to even be blowing in the wind. You never know which type of scarecrow is going to get your student's imagination going, so it always helps to have more than one choice. Note: The download above includes a Coloring Page.
More Fall Drawing Projects