Easy How to Draw a Tulip Tutorial Video and Tulip Coloring Page
Below you'll find an easy step-by-step tutorial for how to draw a Tulip Tutorial Video and a Tulip Coloring Page. Those petals are the perfect place to try some color mixing.
Tulip Tutorial Video
This tulip tutorial will show students how to draw one in full bloom, like the larger flower on the right, and a smaller one that is still growing, like the one on the left. Tulip leaves are also rather distinct in that they are long with a kind of wavy edge. Colors of course, leave all kinds of options. Just be sure to have students press hard with their crayons to get the most vibrant hues possible.
Tulips are loved for their bright colors, but they have a background story to them too. Their name originates from the Persian word for turban, as they resemble a turban when in full bloom.
Did you know that the color of tulip blossoms also have symbolic meaning? Purple, not surprisingly, is seen as a symbol of royalty. Pink tulips are connected to happiness, self-confidence and positivity. White are sometimes used as a peace offering, and yellow a sense of achievement.
Every year in January, the city of Amsterdam celebrates National Tulip Day. On this day, tulip growers build a gigantic tulip garden and people are free to pick a bouquet for themselves at no cost. It marks the official opening of tulip season in the Netherlands.
Use the Button below to Download a PDF Tutorial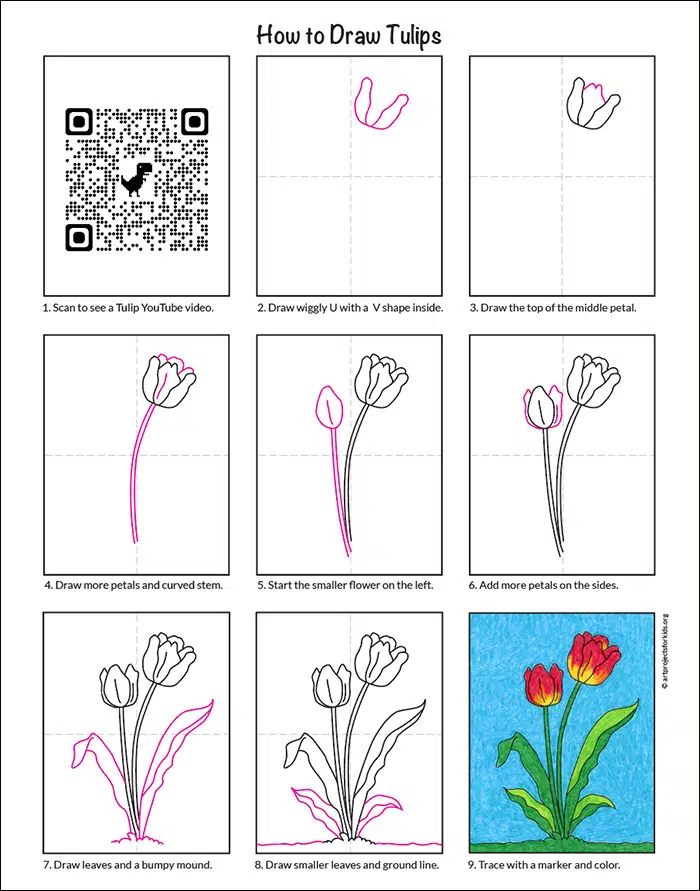 Tulip Coloring Page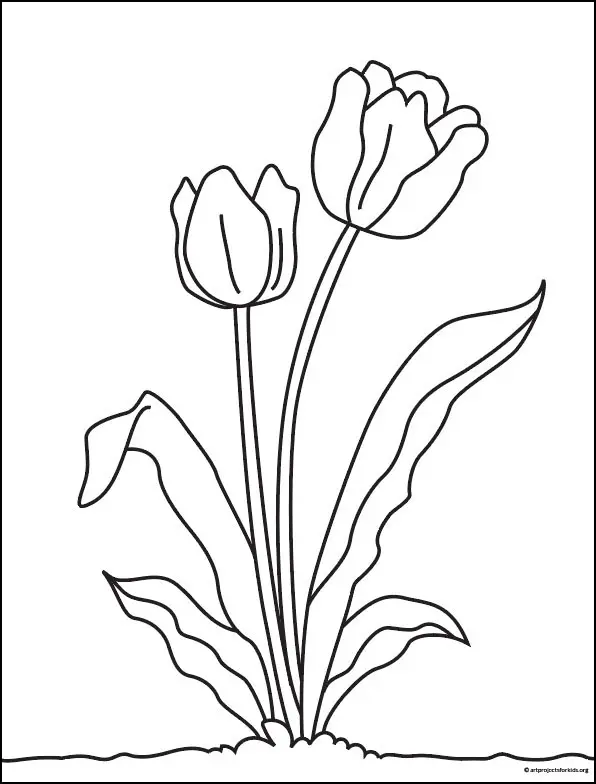 Materials to Draw a Tulip
Drawing Paper. This is the good stuff you can buy in bulk for a good price.
Pencils. I like how this brand always makes nice dark lines.
Black Marker. A permanent marker will give you a dark black color.
Note: All of the above are Amazon affiliate links.
Step by Step Directions to Draw a Tulip
Time needed: 1 hour
How to Draw a Tulip
Draw a wiggly U shape that is tilted a bit.

Add a V shape to make the petals.

Draw the top of the middle petal.

Add more petals and a curved stem.

Start the smaller flower on the left side.

Add more flower petals on the sides.

Draw the large leaves and a bumpy mound.

Add smaller leaves and a ground line.

Trace with a marker and color.
More Fun Flower Drawing Projects