One of the easiest ways to learn how to draw a kitten, is to make a cat with a large head. It adds cuteness and allows room to make some extra large eyes.
Circles are one of the trickiest things to draw, even as an adult. If a drawing project starts with one, such as with this kitten, I recommend that you provide younger elementary students (kinder through 1st grade?) with some kind of tracer like an old CD to help them get started. After all, the goal is to get them on to the following steps of creating their kitty face and body.
Trust me, starting with something like a traced CD won't make all the drawings look like cookie cutter versions either. There's plenty of room for original twists on the face, body and markings.
MATERIALS
*The above product links are referrals. If you click through and take action, I'll be compensated a small amount, at no extra expense to you.
LOOKING FOR MORE DRAWING PROJECT IDEAS?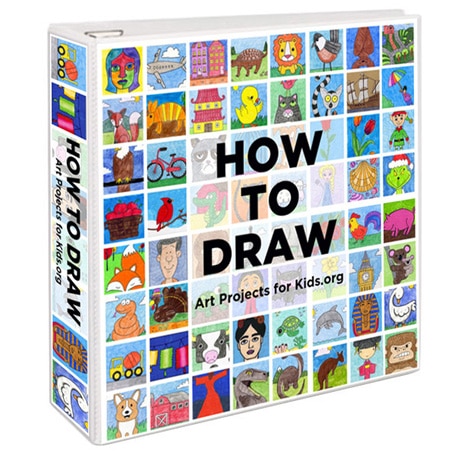 There are 200 fun and easy drawing tutorials made just for young artists in my giant How To Draw ebook.
All were created with lots of hands on classroom testing, and designed to take beginner artists from the first step to the last with clear and simple diagrams.
It's all you need to provide hours of drawing fun with tutorials for Animals, Fish, Insects, Birds, Landscapes, Plants, Transportation, People and much more. Just click on the book or title to learn more.
DIRECTIONS
Time needed: 1 hour.
How to Draw a Kitten
Use an old CD to trace a circle.

Draw the ears.

Draw the two front legs.

Draw the back legs and belly line.

Add a tail.

Draw two large eyes.

Add nose, mouth and claws.

Trace with a marker, add crayon details and paint with watercolor.