Easy How to Draw a Bunny Face Tutorial and Bunny Face Coloring Page
Below you'll find an easy step-by-step tutorial for how to draw a Bunny Face and a Bunny Face Coloring Page.
This very simple tutorial is great for those that are just learning how to draw. The large head is an easy U shape, with a flat top, and the tall ears, wide eyes and little nose all make for a very recognizable bunny face. And all those extra simple shapes create fun options on how to fill him or her in.
Students could color their bunny with "real" looking brown fur, or some fun made-up colors, or better yet — clothes! What better way to add some instant personality than that?
Use the button below to download a PDF Tutorial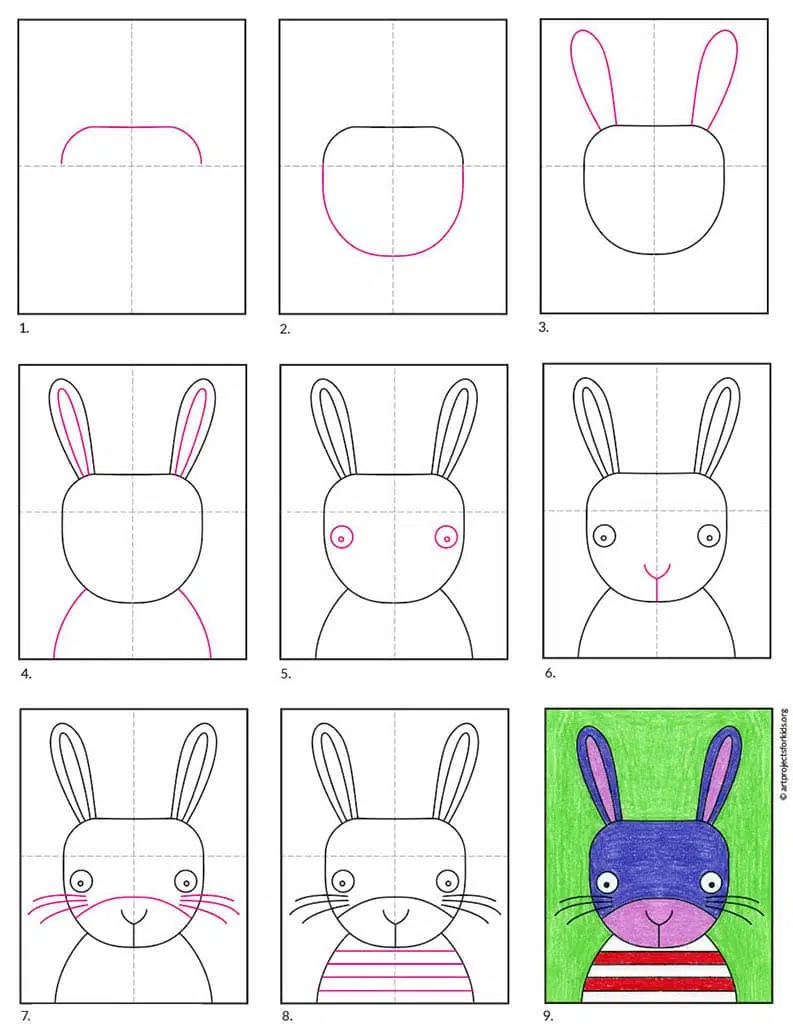 Bunny Face Coloring Page
Bunny Face Tracing Page
Materials to draw a Bunny Face
Drawing Paper. This is the good stuff you can buy in bulk for a good price.
Pencils. I like how this brand always makes nice dark lines.
Black Marker. A permanent marker will give you a dark black color.
Note: All of the above are Amazon affiliate links.
Step by Step Directions for a Bunny Face Drawing
Time needed: 45 minutes
How to Draw a Cute Bunny Face
Make guidelines. Start the top of the head.

Draw the bottom of the head.

Draw two ears.

Add inside ears and shoulders.

Add two wide set eyes.

Draw a bunny nose.

Add nose line and whiskers.

Add stripes to the shirt.

Trace with a marker and color.
More Bunny Drawing Projects