Easy How to Draw a Vampire Tutorial and Vampire Coloring Page
Learn how to draw a Vampire and his hypnotizing eyes. For another option, there's a Cartoon Vampire tutorial added below too.
Vampire Drawing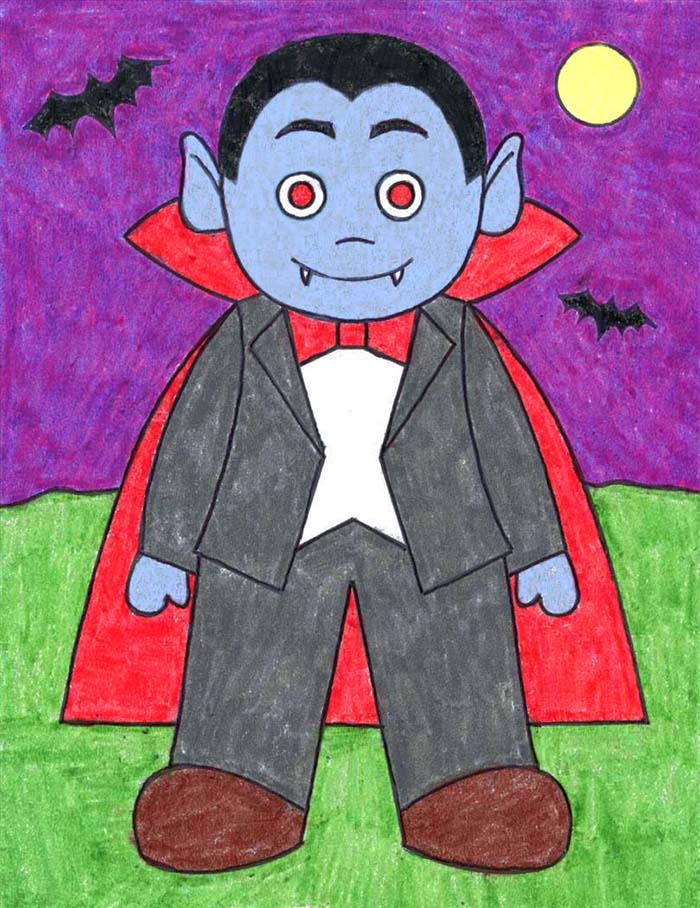 Cartoon Vampire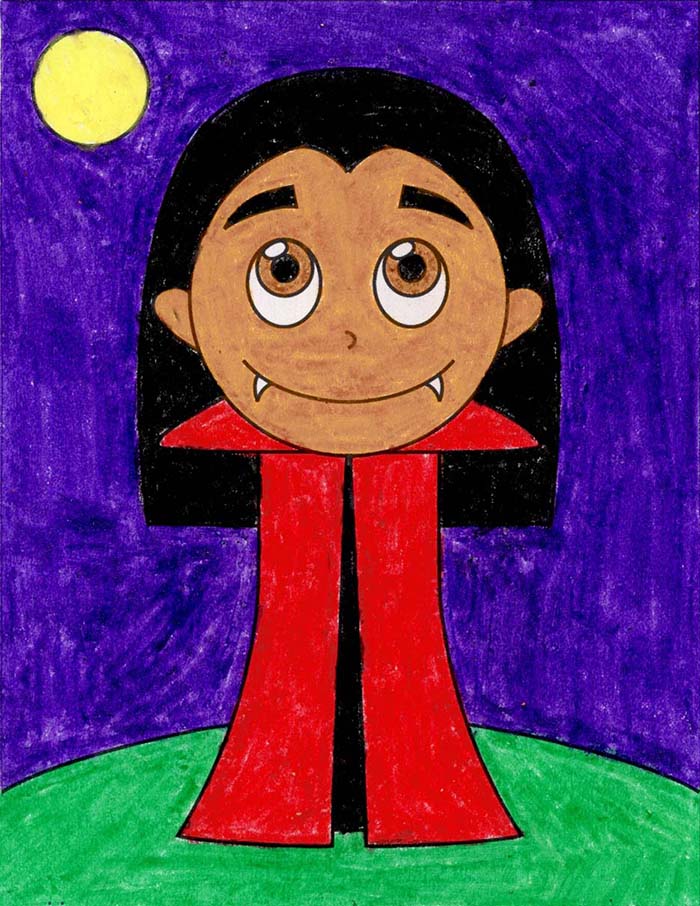 When students are learning how to draw popular Halloween characters, sooner or later they will want to learn how to draw a Vampire. They have such a history, and are the focus of so many books and movies, it's no wonder lots of children (and adults!) are fascinated with them.
If your searches for a good vampire tutorial though were only resulting in the more PG rated versions, then you are in luck. There's no reason why students can't draw the classic look of one, without getting into the creepier bloody details that some other lessons may have. You know, with the kind of details that might keep you up at night.
This vampire tutorial shows students how to draw a G-rated version, with the pointy hairline, the spiked teeth, and the cape. There are even hypnotizing eyes that are easy to draw as floating red circles. That's an easy detail anyone can add!
Lastly, a little more body drawing practice is always a good thing. This vampire's fancy clothes have been simplified so students can do just that. In real life, there are a lot of details that come with a suit and tie and cape, but all the shapes here are easy for young artists that are just learning how to draw.
Pin Me to Your Pinterest Board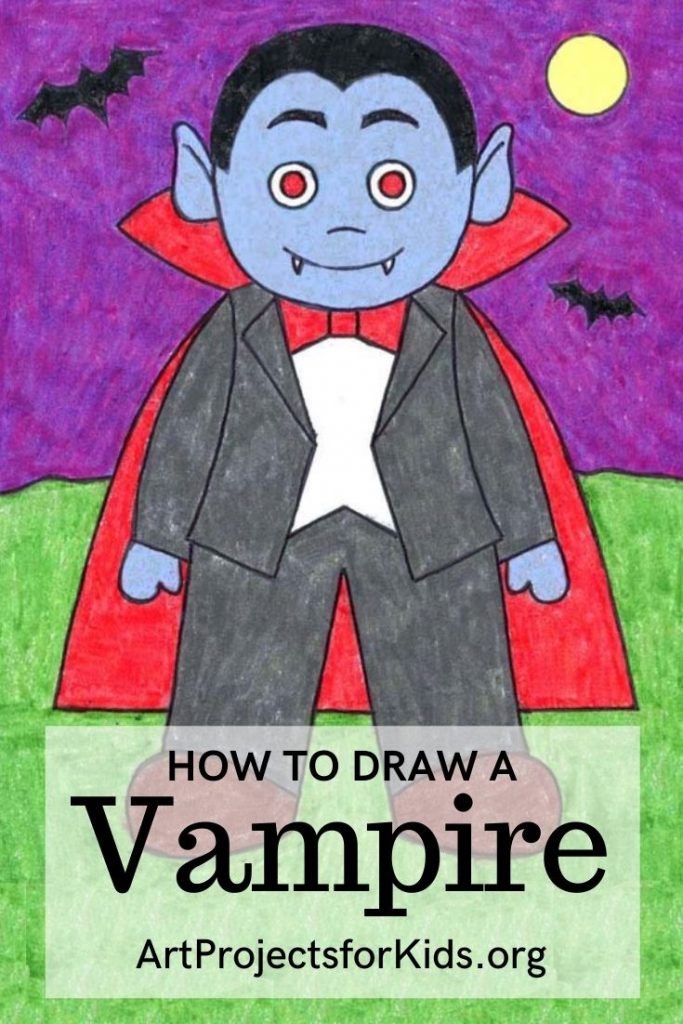 Use the Button below to Download a PDF Tutorial
Vampire Coloring Page
Use the Button below to Download a PDF Tutorial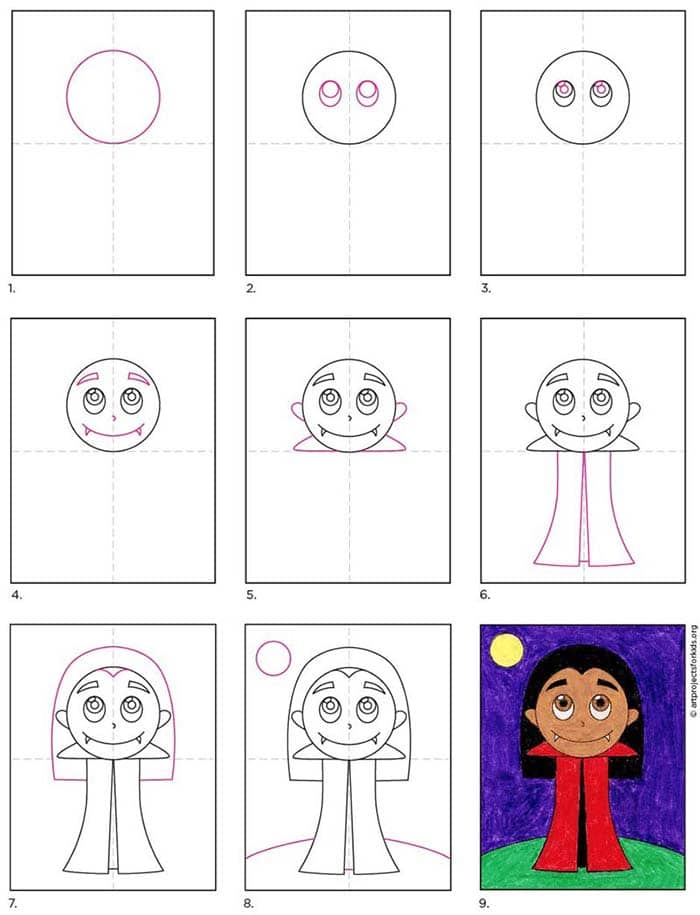 Cartoon Vampire Coloring Page
Materials for a Vampire Drawing
Drawing Paper. This is the good stuff you can buy in bulk for a good price.
Pencils. I like how this brand always makes nice dark lines.
Black Marker. A permanent marker will give you a dark black color.
Note: All of the above are Amazon affiliate links.
Directions to Draw a Vampire Step by Step
Time needed: 30 minutes.
How to Draw a Vampire
Draw a large circle for the head.

Add the face inside.

Draw pointy ears and the hairline.

Start the jacket.

Add the pants, shirt and tie.

Draw the arms and shoes.

Finish with a large cape.

Add a horizon line and sky.

Trace with marker and color.
More Fun Halloween things to Draw