Show your students how to make a cat out of paper, and add a little lesson in sculpture to your day. Great for working on crafting skills AND Halloween decorations too, of course.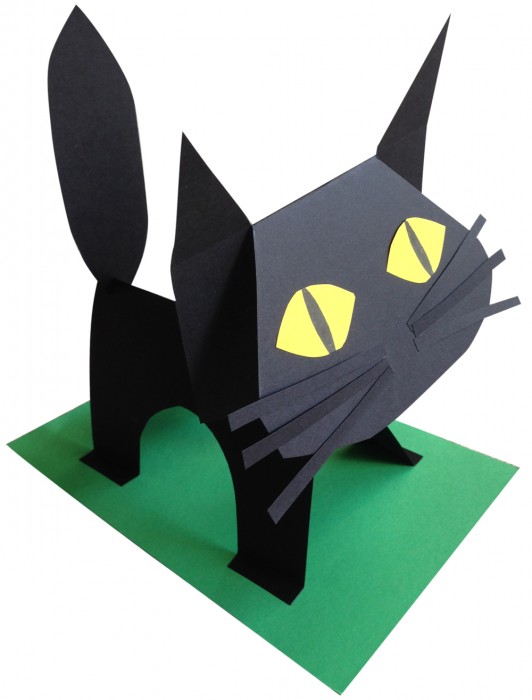 If you are looking for an easy way to have your students work in three dimension, and this project works great, even for 1st graders.
The biggest step they needed help with, sometimes, was cutting the slash for the ears. Drawing it in pencil for them before they cut was an option that helped some from getting frustrated. No matter how they got to the end though, they all loved their cats by the time there were done.
Early finishers can work with scrap colored paper to create collars, hats, crowns, you name it.
STEP BY STEP INSTRUCTIONS (PDF Available below)

Supplies: Black, green and yellow paper.
Cut black paper in half.
2. Fold one side. Draw and cut out a half circle. Fold the toes on all four legs.
3. Glue the toes to the green base paper.
4. Cut two slits as shown, about 3/4″.
6. Cut off bottom section from remaining black paper. Cut it into a tail shape.
7. Fold the remaining head paper in half. Trim to make a curved chin as shown.
8. Open up and draw slits for ears. Fold again so ears pop up.
9. Fold yellow paper and cut to make eyes. Draw slits. Cut whiskers from scraps.
10. Glue eyes and whiskers to face.
11. Insert head and tail into slits.
MATERIALS
Scissors
Glue stick
Black marker
*The above product links are referrals. If you click through and take action, I'll be compensated a small amount, at no extra expense to you.
DIRECTIONS
Cut body from black card stock paper (most construction paper is too soft). Fold back and cut out legs. Make slits to insert head and tail.
Cut out head. Make cuts for ears and fold. Make two cuts for nose.
Cut whiskers and glue under nose.
Cut out eyes from yellow paper. Use a black marker to make circles. Glue on face.5. Insert head and tail in slits as shown.
LIKING THIS HALLOWEEN PROJECT?
Well, you might want to know that there a lot more fun and easy Halloween projects in my HALLOWEEN DRAWING ebook. It contains 25 brand new tutorials that first timers can try out to draw new shapes, and the more experienced artists can use as a starting point before adding their own twists, and details, and shadows.
Each project includes easy to follow step-by-step tutorial, a full size line drawing for reference, and finished color sample. Just click on the title or book to learn more.