Make a Halloween Black Paper Cat
Learn how to make a paper cat and add a little lesson in sculpture too. Great for working on paper crafting skills.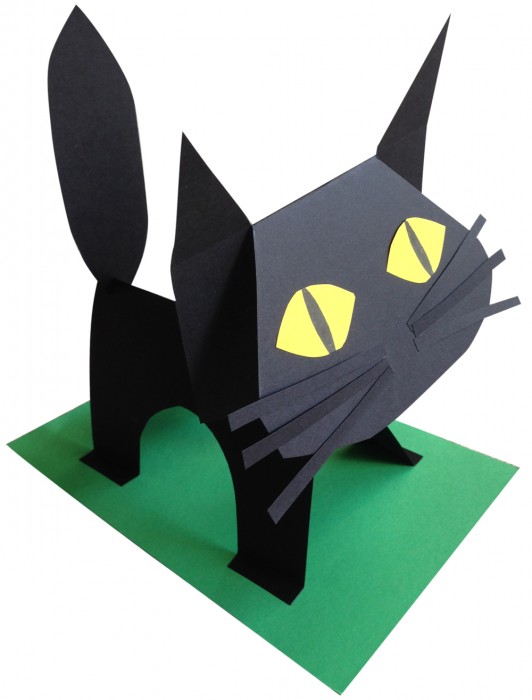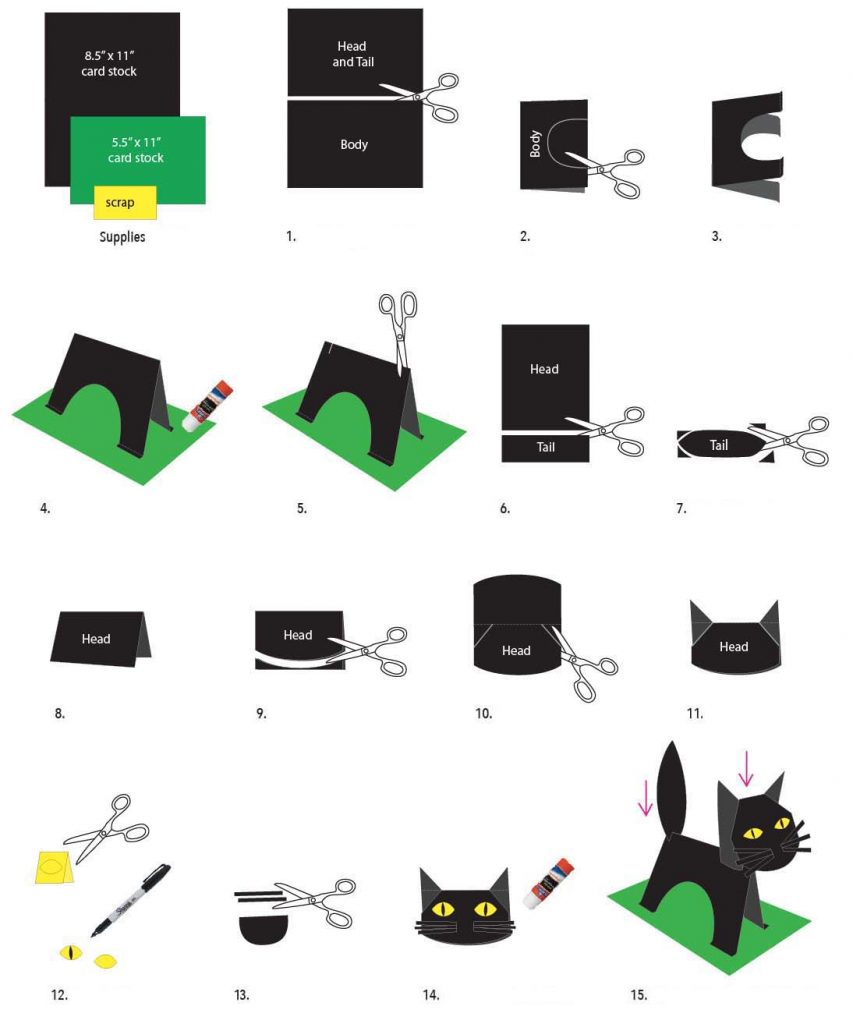 If you are looking for an easy way to have your students work in three dimension, and this project works great, even for 1st graders.
The biggest step they needed help with, sometimes, was cutting the slash for the ears. Drawing it in pencil for them before they cut was an option that helped some from getting frustrated. No matter how they got to the end though, they all loved their cats by the time there were done.
Early finishers can work with scrap colored paper to create collars, hats, crowns, you name it.
MATERIALS
Card stock paper: yellow and green
Card stock paper, black
Scissors
Glue stick
Black marker
DIRECTIONS
Time needed: 1 hour.
How to make a Paper Cat
Cut the black paper in half.

Fold in half. Cut out half circle.

Fold toes on all four legs.

Glue toes to green paper.

Cut two slits on back fold.

Cut off bottom strip. Cut into a tail

Cut out tail as shown.

Fold head paper in half.

While folded, cut curve for chin.

Open up and cut two slits.

Fold and press ears up.

Fold and cut two eyes. Use marker to finish.

Cut whiskers from scraps.

Glue eyes and whiskers to face.

Insert back head and tail into slits.
My Black Paper Cat turned out to be such an easy paper craft that I thought I'd try it with other color combos.
MATERIALS
Pacon Premium Tagboard
Scissors
Glue stick
Black marker
3D Paper Lion
MATERIALS
Tagboard: yellow, orange, white, pink
Paper cutter
Sharpie marker, black
Glue stick
Scissors
Crayons or markers for map