The credit for this Halloween projects for kids goes to an old Family Fun Craft book. I just worked out a few details about the size and materials.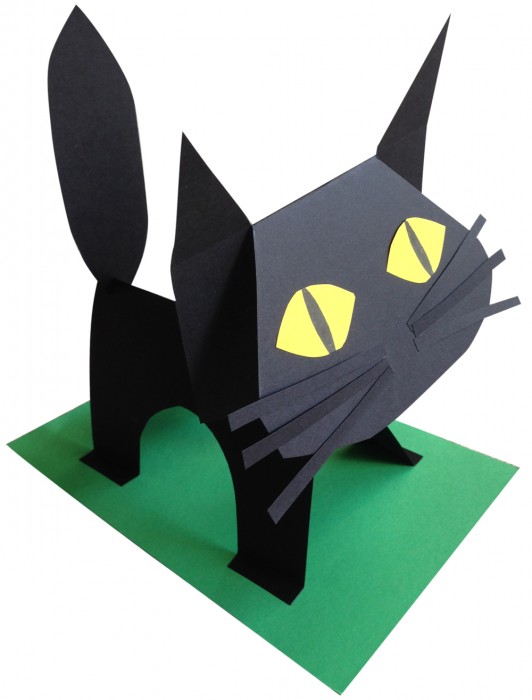 I had been wanting to find an easy way to have my students work in three dimension, and this project worked great, even for 1st graders. The biggest step they needed help with, sometimes, was cutting the slash for the ears. Drawing it in pencil for them before they cut was an option that helped some from getting frustrated. No matter how they got to the end though, they all loved their cats by the time there were done.

• View and download Black Paper Cat PDF Tutorial

MATERIALS
• Card stock paper: yellow and green
• Card stock paper, black
• Scissors
• Glue stick
• Black marker
DIRECTIONS
1. Cut body from black card stock paper (most construction paper is too soft). Fold back and cut out legs. Make slits to insert head and tail.
2. Cut out head. Make cuts for ears and fold. Make two cuts for nose.
3. Cut whiskers and glue under nose.
4. Cut out eyes from yellow paper. Use a black marker to make circles. Glue on face.5. Insert head and tail in slits as shown.