I love the versatility of craft sticks, and these jumbo ones are the best for making cute DIY gift boxes.

With summer camps and extra craft time kicking in, these make some pretty stylish little crates, considering these cost only pennies apiece.
MATERIALS
Jumbo craft sticks
Junior craft sticks
Utility scissors
White craft glue
DIRECTIONS
Cut sticks as shown in tutorial.
Glue with craft glue, which will dry so much faster and stronger than regular glue.
Let dry and fill with any number of things, including candy, baked goods, flowers, cactus. All kinds of possibilities!
Mini Craft Stick Stools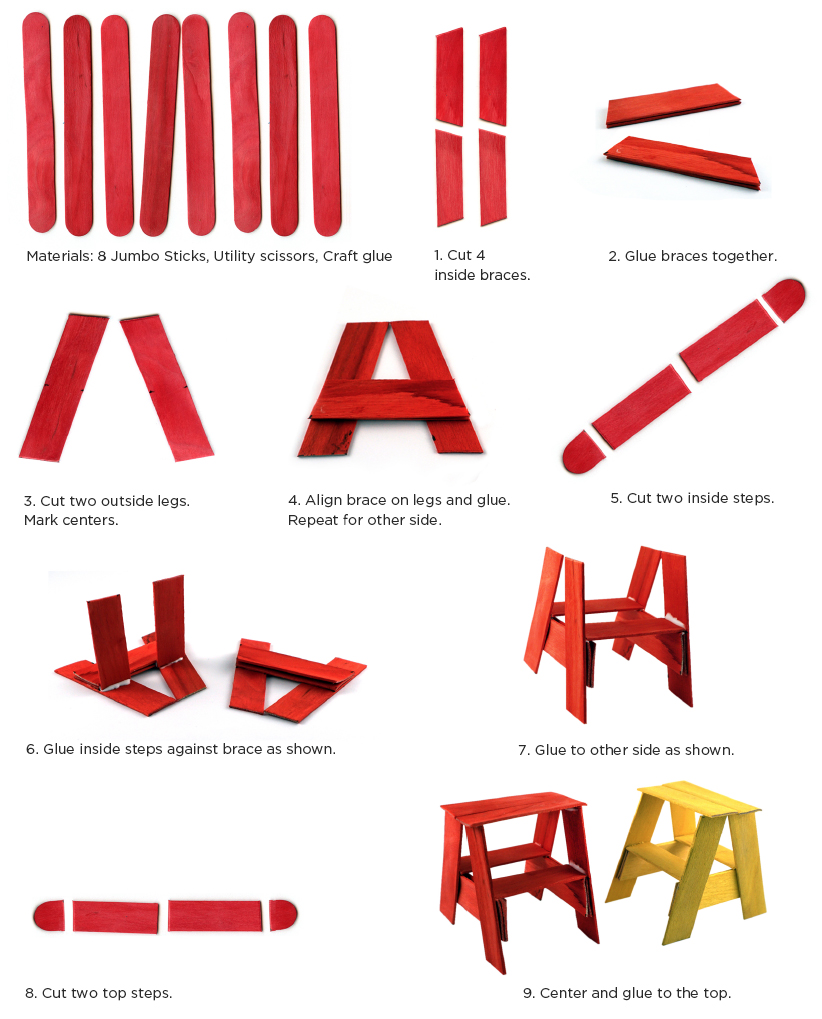 MATERIALS
8 Jumbo sticks
Utility scissors
Craft glue
DIRECTIONS
Cut four inside braces. There is a cutting guide on page two of PDF tutorial.
Glue the braces together.
Cut two outside legs. Mark the centers.
Align the braces on legs and glue. Repeat for other side.
Cut two inside steps.
Glue inside steps against brace as shown.
Glue to opposite side as shown.
Cut two top steps.
Center and glue to top.
Make a Craft Stick Easel

I've been making these for so long for my mini canvas classes that I thought I'd share an illustrated version. One of my most popular after school classes has been making miniature paintings that display on this easel. The mini canvases come in many fun sizes and look great when colored with Brush Sharpie markers.

• View and download Craft Stick Easel Tutorial
MATERIALS
• Craft sticks, five
• Utility scissors
• Craft glue
DIRECTIONS
1. Glue the front sticks according to the tutorial.
2. Cut the back balancing stick, glue and let dry.
Recycled Pencil Star
MATERIALS
10 used pencils (Ticonderoga brand will get you the pretty yellow color)
Craft Sticks
Craft Glue
String (optional)
DIRECTIONS
Glue 10 sticks together to make a star shape. Let dry until the shape is firm. If you can pick it up and all the joints stay in place, it is good to go.
Sharpen the 10 pencils a bit so they are all the same length as one of the sticks.
Glue pencils on the sticks with the eraser ends touching each other. Let the star dry again for several hours.
Tie a string to hang your star someplace special!