Easy How to Draw Harriet Tubman Tutorial and Harriet Tubman Coloring Page
Below you'll find an easy step-by-step tutorial for how to draw Harriet Tubman and a Harriet Tubman Coloring Page. She holds a special place in American history as an brave abolitionist and political activist.
Harriet Tubman Drawing
Harriet Tubman Video
When students learn how to draw Harriet Tubman, they can help honor the life of this amazing woman. She was once enslaved, but then escaped and helped others gain their freedom as one of the leaders of the Underground Railroad. She also served as a scout, spy, guerrilla soldier, and nurse for the Union Army during the Civil War, and was considered the first African American woman to serve in the military.
To get the same colors as seen in my sample, I recommend the Prang crayons. They seem to have a richer variety of skin tones, including those that work well for African American portraits. In fact, all the colors seem to end up looking almost like oil pastels, when filled in well, at a fraction of the cost.
Getting Started with Drawing Guides
The best way to get students off to a good start to any drawing lesson is to show them how to use guides as a reference point.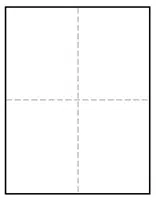 You may have noticed that all of the tutorials on this site have a dashed line running through the center of each step, in both horizontal and vertical directions. If students make their own centered lines on their own paper, before drawing, they will have an easy reference to follow.
Drawing skills are all about getting the size and placement of lines on paper, so having some visual reference point to get started, will always help anyone learn how to be a little more accurate.
So does that mean students need to get out a ruler to draw a big fat line down the center of their paper before they start? Goodness no, please don't! That will most likely be hard to erase and distract from any finished art. No, simply fold the sheet of paper in half both ways, make a crease, and unfold. The beauty is that by the time the drawing is done and colored in, the creases will disappear.
Use the Button below to download a PDF Tutorial
Student art from Laurel Academy in Seattle, WA
Harriet Tubman Coloring Page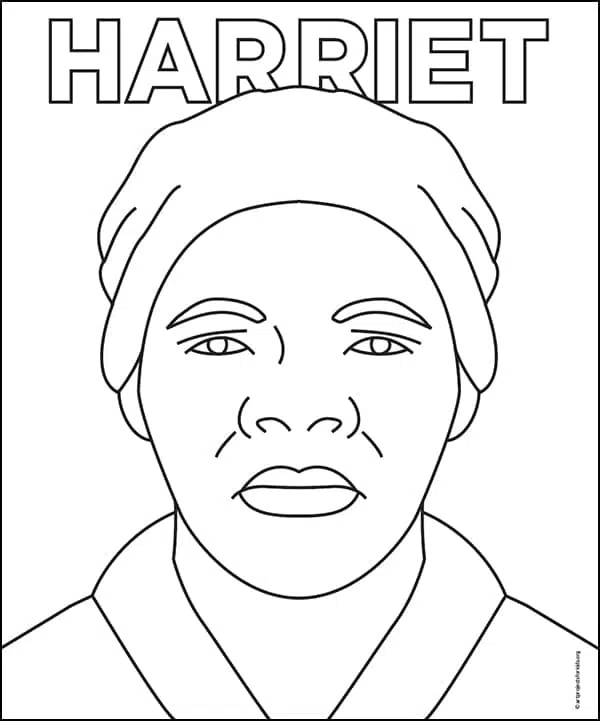 Materials to Draw Harriet Tubman
Drawing Paper. This is the good stuff you can buy in bulk for a good price.
Pencils. I like how this brand always makes nice dark lines.
Black Marker. A permanent marker will give you a dark black color.
Note: All of the above are Amazon affiliate links.
Step by Step Directions to Draw Harriet Tubman
Time needed: 1 hour
Draw Harriet Tubman
Draw the top of the head.

Add the bottom of the head.

Draw two eyes and brows.

Draw the nose below.

Add the mouth.

Draw the outside of the scarf.

Add scarf lines and the neck.

Finish the shirt and add block letters above.

Trace with marker and color with crayons. (Prang has great skin colors.)
More Black History Month Drawings