Easy How to Draw a Terracotta Warrior and Warrior Coloring Page
Below you'll find an easy step-by-step tutorial for how to draw a Terracotta Warrior and Warrior Coloring Page. This one includes a simple version of their typical warrior gear.
Chinese workers digging a well in 1974 made a startling discovery: thousands of life-size terracotta figures of an army prepared for battle. Now students can learn how to draw a Terracotta Warrior, just one of the figures found in this amazing collection of warriors, chariots and horses. Estimates from 2007 were that the three pits containing the Terracotta Army held more than 8,000 soldiers, 130 chariots with 520 horses, and 150 cavalry horses.
This Terracotta warrior project offers an easy way to draw one of these figures, but in a simple and symmetrical way. Learning how to draw body proportions that are true to real life takes practice. This tutorial will help students see how and where to draw the head, torso and legs, and then add as many warrior details as they can.
Use the Button below to Download a PDF Tutorial
Terracotta Warrior Coloring Page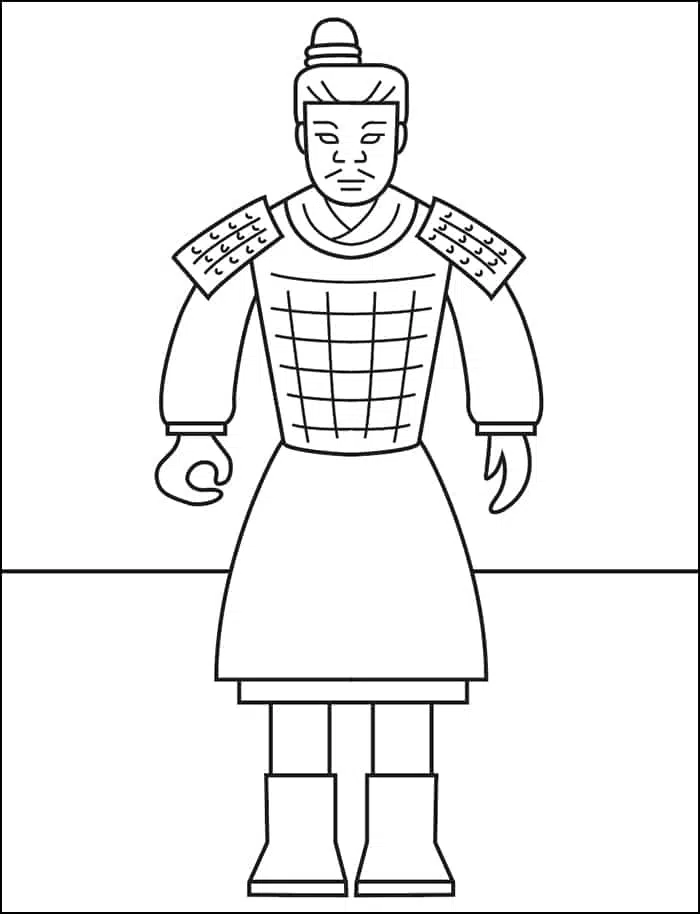 Materials to draw a Terracotta Warrior
Drawing Paper. This is the good stuff you can buy in bulk for a good price.
Pencils. I like how this brand always makes nice dark lines.
Black Marker. A permanent marker will give you a dark black color.
Note: All of the above are Amazon affiliate links.
Step by Step Directions for a Terracotta Warrior Drawing
Time needed: 45 minutes
Terra Cotta Warrior Drawing Instructions
Draw the torso, head and hair.

Add the skirt looking shape below.

Draw the legs and boots.

Add two sleeves with cuffs.

Draw hands below the sleeves.

Add armor plates on the shoulders.

Erase inside. Add texture as shown.

Draw the face, and hair details.

Trace with a marker and color.
More Chinese History Art Projects