Learn how to draw a lemur, with this step by step tutorial. Those big eyes and striped tail make such a cute and unusual looking character.
Lemurs are native only to the island of Madagascar. Most are small, have a pointed snout, large eyes, a long tail, and chiefly live in trees. A very popular kids movie about Madagascar once featured a lot of these creatures too.
But no matter what brought you to them, I think they make for a great drawing project as all the features are recognizable, they just happen to be arranged in a unique way on this very cute animal.
MATERIALS
*The above product links are referrals. If you click through and take action, I'll be compensated a small amount, at no extra expense to you.
LOOKING FOR MORE DRAWING PROJECT IDEAS?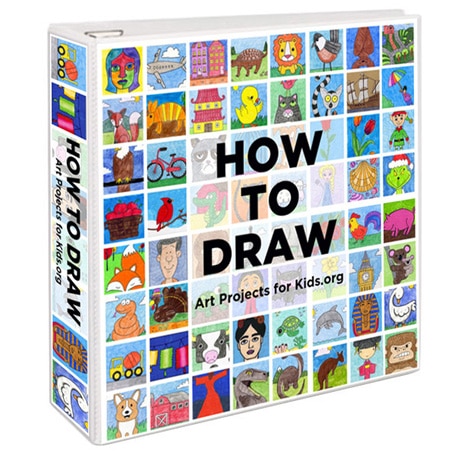 There are 200 fun and easy drawing tutorials made just for young artists in my giant How To Draw ebook.
All were created with lots of hands on classroom testing, and designed to take beginner artists from the first step to the last with clear and simple diagrams.
It's all you need to provide hours of drawing fun with tutorials for Animals, Fish, Insects, Birds, Landscapes, Plants, Transportation, People and much more. Just click on the book or title to learn more.
DIRECTIONS
Fold the paper in half two times to get guidelines.
Draw the lemur according to the steps on the tutorial.
Trace the drawing with a black marker.
Color the body and background with crayons.