Here's a fun landscape painting for children project, inspired by Ton Schulton, a Dutch landscape artist. Instead of drawing and then painting, try painting and then drawing.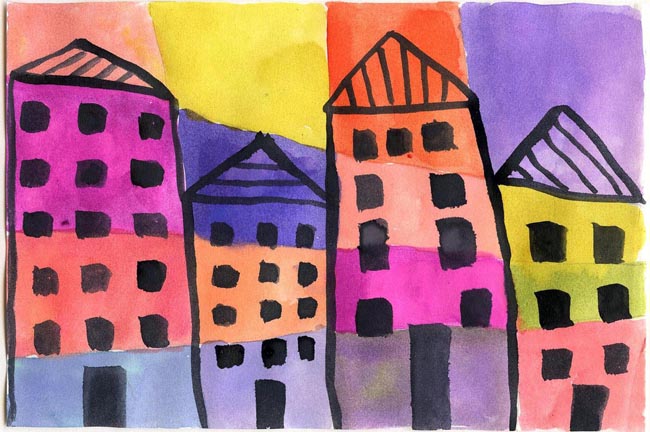 I wish I knew who first thought of this great approach for having students paint in Ton Schulton's style. It's basically working backwards, as in painting a background first and then designing buildings on top afterwards.
My favorite media for this would have to be the tray watercolor paints for the background, and black cake tempera paint (with a thin brush) for all the building designs on top. You get a very painterly look by drawing with a brush, and the black cake tempera paints can make very opaque lines if you take care to not add too much water.
All in all, a fun way to paint the background first, and the subject matter second. A fun way to mix things up.
MATERIALS
Multimedia paper
Watercolor paint
Paper towels
Black tempera paint, cake
Thin paint brushes
DIRECTIONS
Time needed: 1 hour.
Make a landscape painting for children
Draw 3 wavy horizontal lines and 4 wavy vertical lines in pencil.
Fill all the blocks with watercolor paint.

Use paint or markers to draw buildings on each block.

Repeat until the page is complete.