Easy How to Draw a Dolphin Tutorial and Dolphin Coloring Page
Below you'll find an easy step-by-step tutorial for how to draw a Dolphin Tutorial Video and a Dolphin Coloring Page. This tutorial breaks down how to draw all those curves, one step at a time.
Draw a Dolphin Easy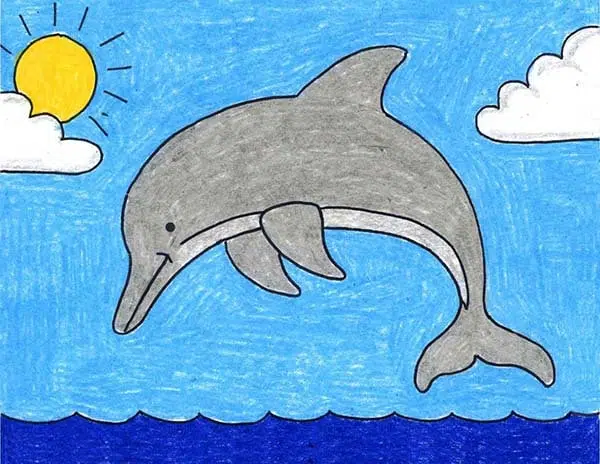 How to Draw a Dolphin Tutorial Video
Learning how to draw a dolphin will always and forever remind me of my son's elementary school. It's where I started my classroom art teacher days, to the Dixie Dolphins of Sherman Oaks, CA. You can imagine the need to sketch one would come up almost daily. I'd tell the students that they look kind of like a banana, they just need to pay attention to the curves of the fins and tail. This tutorial certainly helped out, and I think even helped to create a yearbook cover or two.
Getting Started with Drawing Guides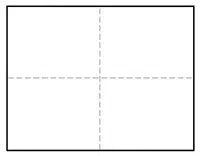 The best way to get students off to a good start to any drawing lesson is to show them how to use guides as a reference point. All of the tutorials on this site have a dashed line running through the center of each step, in both horizontal and vertical directions. If students make their own centered lines on their own paper, simply by folding and creasing their paper, they will have an easy reference to follow. Drawing skills are all about getting the size and placement of lines on paper, so having some visual reference point to get started, will always help anyone learn how to be a little more accurate.
Use Button below to Download a PDF Tutorial
Dolphin Coloring Page
Dolphin Tracing Page
Time Lapse Drawing of a Dolphin
Materials to draw a Dolphin
Drawing Paper. This is the good stuff you can buy in bulk for a good price.
Pencils. I like how this brand always makes nice dark lines.
Black Marker. A permanent marker will give you a dark black color.
Note: All of the above are Amazon affiliate links.
Dolphin Drawing Directions
Time needed: 1 hour.
How to Draw a Dolphin easy step by step
Make guidelines. Draw the back curve.

Add a nose and the belly curve.

Draw the tail on the right.

Add the mouth and eye.

Draw one flipper.

Draw other flipper and fin, and erase the inside line.

Add a belly line.

Add a water horizon line, sun and some clouds.

Trace in black and color with crayons.
More Ocean Animal Drawing Projects