Easy How to Draw a Bear Tutorial Video and Bear Coloring Page
Below you'll find an easy step-by-step tutorial video for how to draw a bear and a bear coloring page. It's not that hard to draw one that looks pretty realistic, if you take it one step at a time.
How to Draw a Bear Video
Bears sometimes look like they can be complicated to draw, with their big furry bodies. It can be hard to see where and how their legs and arms attach to their bodies. Not to worry though, this How to Draw a Bear tutorial will show students how to draw a nice smooth body with legs first, and then add some fuzzy edges all around.
Breaking this process into two steps will insure students draw the size and proportion of the bear first, before adding those little fuzzy lines all around. It's no fun getting to the end of your drawing, and then wish you had made some body parts larger or smaller. Then again, that's all part of the learning process!
Use Button to Download a PDF Tutorial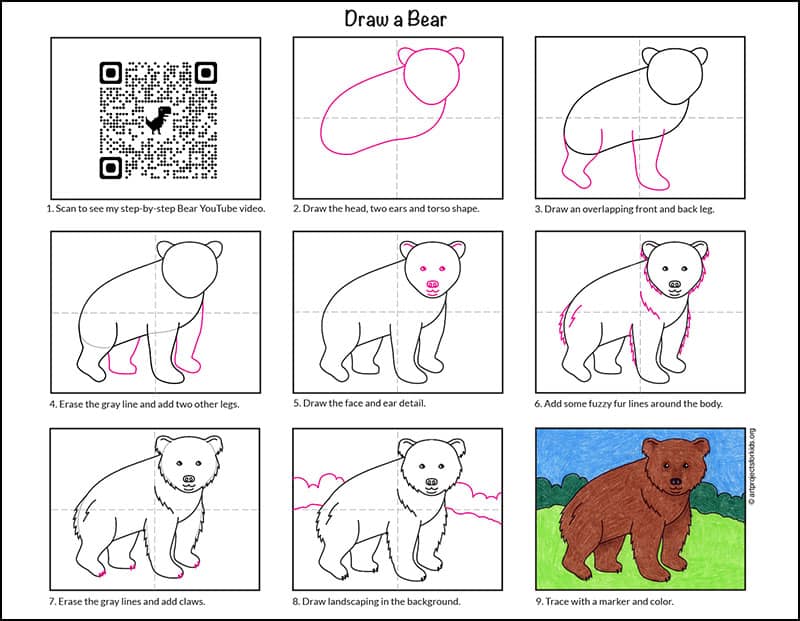 Bear Coloring Page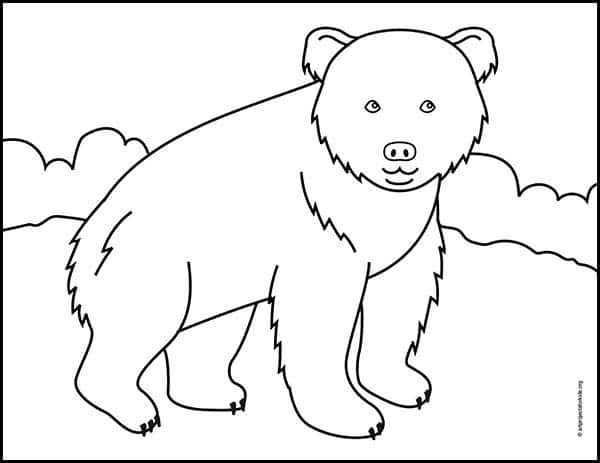 Materials for Bear Drawing
Drawing Paper. This is the good stuff you can buy in bulk for a good price.
Pencils. I like how this brand always makes nice dark lines.
Black Marker. A permanent marker will give you a dark black color.
Note: All of the above are Amazon affiliate links.
Step by Step Directions to Draw a Bear
Time needed: 45 minutes.
How to Draw a Bear in 9 Easy Steps
Draw the basic head shape as shown.

Add two ears and the round torso shape.

Draw an overlapping front and back leg.

Erase the gray line and add two other legs.

Draw the face and ear detail.

Add some fuzzy fur lines around the body.

Erase the gray lines and add claws.

Draw landscaping in the background.

Trace with marker and color.
More Fun Bear Drawing Projects