Easy How to Draw a French Bulldog Tutorial and French Bulldog Coloring Page
Below you'll find an easy step-by-step tutorial for how to draw a French Bulldog and a French Bulldog Coloring Page. Drawing that cute face and body just might be easier than you think.
Drawing of a French Bulldog
The French Bulldog is the result of a cross between Toy Bulldogs from England, and terriers from Paris, France. The cross breeding began in the mid 1800s is order to make the Bulldog more of a companion than a sporting dog.
French Bulldogs were highly fashionable and sought after by society ladies in the late 1800s, as well as with creatives such as artists, writers, and fashion designers. There is even a record of Edgar Degas and Toulouse-Lautrec including them in their paintings.
Today the French Bulldog is as popular as ever, but it's good to know all about their pros and cons before getting one as a pet. The website Your Dog Advisor has some really good information about French Bulldogs and more.
Save me to your Pinterest Board!
Use the Button below to Download a PDF Tutorial
French Bulldog Coloring Page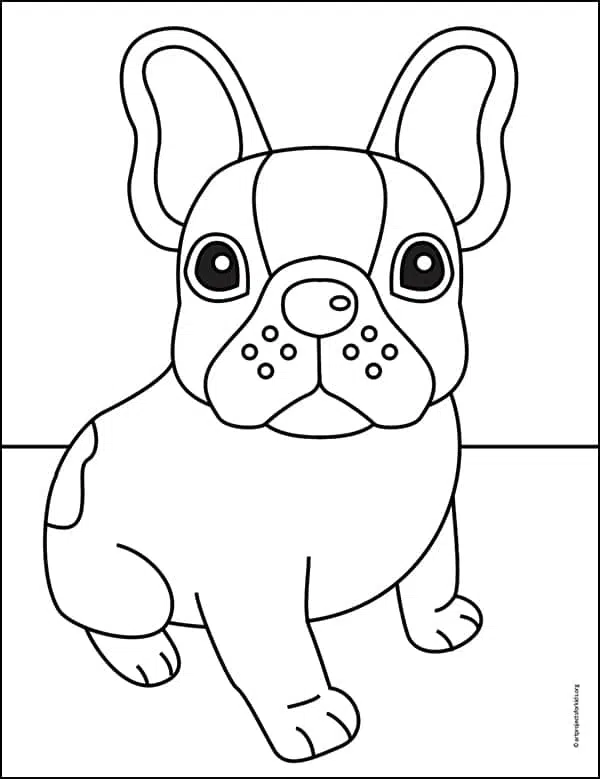 Materials to Draw a French Bulldog
Step by Step Directions to Draw a French Bulldog
Time needed: 35 minutes
How to Draw a French Bulldog
Start the nose a bit to right of center.

Draw the head around it.

Add eyes, lines and spots.

Draw two large ears.

Start the body shape.

Add two front legs.

Draw the back leg, spot and line.

Erase the two gray lines.

Trace with a marker and color. Use a
light gray crayon to add shadows.
More Fun Dog Projects