How to draw an ant, and then paint to look round and dimensional. It's not that hard if you have a skinny brush.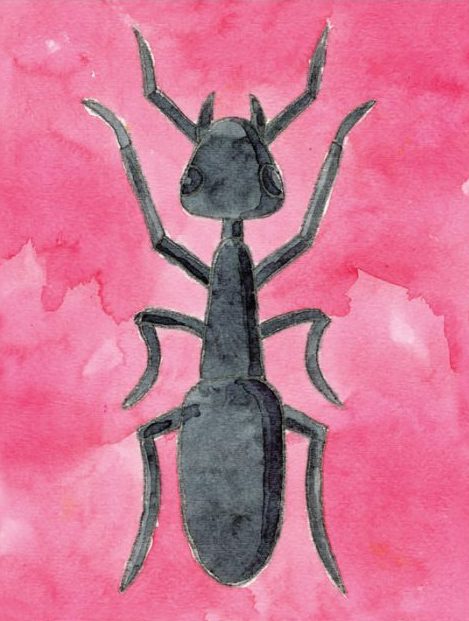 Try adding a little crayon and watercolor to your study of ants and see what happens.
LIKE THIS DRAWING AND PAINTING PROJECT?
There are more like it in my "Botanicals, Fish & Insects" ebook. It contains 25 tutorials that first timers can try out to draw new shapes, and the more experienced can use as a starting point before adding their own twists, and details, and shadows.
Each project includes easy to follow step-by-step tutorial, a full size line drawing for reference, and finished color sample.
Just click on the title or book to learn more.
MATERIALS
• Draw and Paint Ant PDF Tutorial
Ruler, pencil (for making guidelines)
Crayons
*The above product links are referrals. If you click through and take action, I'll be compensated a small amount, at no extra expense to you.
DIRECTIONS
Lightly draw guide lines down the center of the paper with a pencil.
Students draw the ant as shown in the tutorial.
The ant is traced with a dark crayon.
Paint the ant with one layer of black paint.
Add more paint on one side to shade and add dimension. Let dry.
Paint the background.