Easy How to Draw Bubble Letters Tutorial and Bubble Letters Coloring Page
Below you'll find an easy step-by-step tutorial for how to draw a Bubble Letters and a Bubble Letters Coloring Page. A tutorial shares how to draw each and every letter.
Bubble Letter Alphabet
Most students first learn how to draw bubble letters by tracing around stick letters, but this tutorial takes a different approach. Tracing tends to create lots of straight lines with curved ends, which doesn't give letters that kind of expanded balloon look. A better way, I say, is skip the stick letters and just jump in and start drawing the extra fat letters. It only takes a couple of steps and of course there's nothing to erase afterwards. Make them pop even more by adding a drop shadow and little highlight spot.

Bubble letters are basically a lettering style where the letters look puffy like bubbles – hence the name. They are a great beginner lettering project for students that just want to draw some words that stand out, in a fun and easy way. The casual rounded shapes are all very forgiving so it's easy to let go of any ideas that things have to line up just so.

COLOR TIP: Add an extra layer of color to the drop shadow to give it a darker value (one of the Elements of Art). It will give the letters just a little more definition and are a nice contrast to the white shiny spot.
Join "The Daily Draw" below to get this free download
Bubble Letters Coloring Page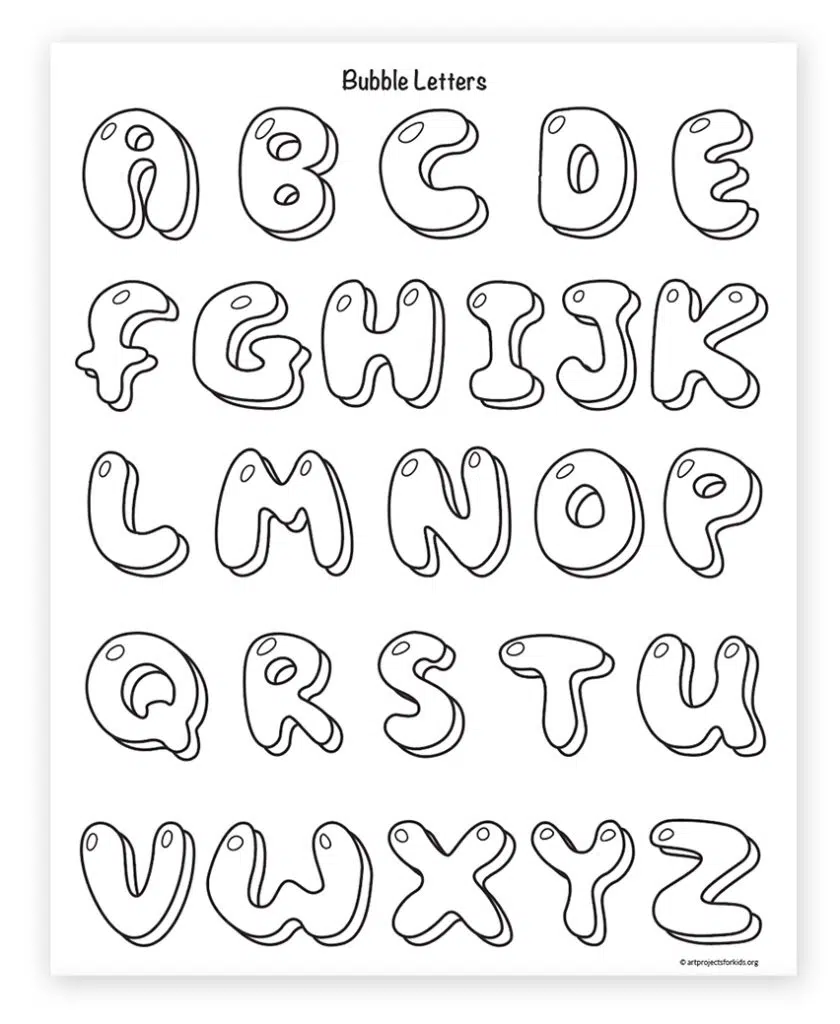 Materials
Drawing Paper. This is the good stuff you can buy in bulk for a good price.
Pencils. I like how this brand always makes nice dark lines.
Black Marker. A permanent marker will give you a dark black color.
Note: All of the above are Amazon affiliate links.
Step by Step Directions
Time needed: 45 minutes
Sample of how draw a Bubble Letter
Draw the large outside curve of the letter A.

Add the inside, circle and highlight button.

Draw the drop shadow.

Trace with a marker and color.
Already Subscribed? Thanks, then use the download button below
More Fun Lettering Projects