For young fans who want to learn how to draw Elsa, here's a fun and easy cartoon version. An oversized head makes it easy to draw her pretty eyes and hair.
It's always fun to add some current culture to your drawing lessons, and Elsa from the popular Frozen movies has to be one of the most recognized and admired characters around these days.
A lot of tutorials I see on the internet though, target middle to high school age artists. That's a shame as I'm sure thought that Elsa has a lot of younger fans too.
Here's a tutorial that I made to keep things as simple as can be, without losing the trademark eyes and braided yellow hair.
Now you have the choice of print friendly tutorial to hand to students, or a viewing a step by step breakdown below.
SUPPLIES
Drawing paper
Black marker
Crayons, colored pencils, or markers
LOOKING FOR MORE DRAWING PROJECT IDEAS?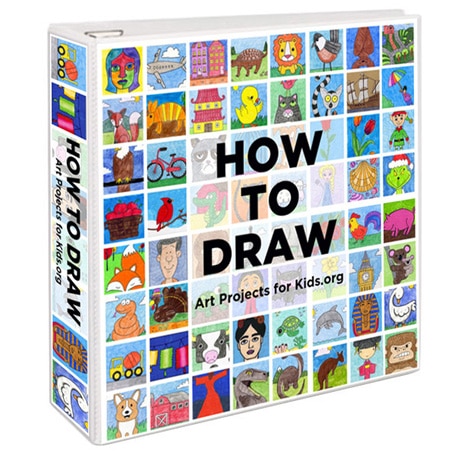 There are 200 fun and easy drawing tutorials made just for young artists in my giant How To Draw ebook.
All were created with lots of hands on classroom testing, and designed to take beginner artists from the first step to the last with clear and simple diagrams.
It's all you need to provide hours of drawing fun with tutorials for Animals, Fish, Insects, Birds, Landscapes, Plants, Transportation, People and much more. Just click on the book or title to learn more.
Time needed: 1 hour.
How to Draw Elsa
Draw a U shape.

Add hair. Make dots for eye placement.

Connect dots for eyes. Add top hair line.

Finish eyes, bangs and hair.

Add head details, start body.

Draw two arms.

Draw clothes, start the braid.

Finish braid, clothes, snowflake.

Trace with marker and color.