Easy How to Draw Elsa Tutorial and Elsa Coloring Page
Below you'll find an easy step-by-step tutorial for how to draw Elsa and an Elsa Coloring Page. It's a fun tutorial that just focuses on her face and shoulders.
Drawing of Elsa
It's always fun to add some pop culture to your drawing lessons, and Elsa from the popular Frozen movies is a fun choice. Now fans can learn how to draw Elsa and focus on her face and shoulders.
Elsa has a beautiful braid of hair, and this tutorial will help young fans draw hers with a few step by step directions. There are many ways to learn how to draw a braid, this is one of the easier ways to do it.
Use Button below to Download a PDF Tutorial
Elsa Coloring Page
Materials for Elsa Drawing
How to Draw Elsa Step by Step
Time needed: 1 hour.
Draw Elsa from Frozen
Draw the face and hair line.

Add the neck and shoulders.

Draw two symmetrical eyes.

Add the brows, nose and mouth.

Draw the shape of the braid.

Add extra hair sections on top.

Add the braid details.

Color with marker. Draw blue circles.

Fill in the blue sky.
Student Art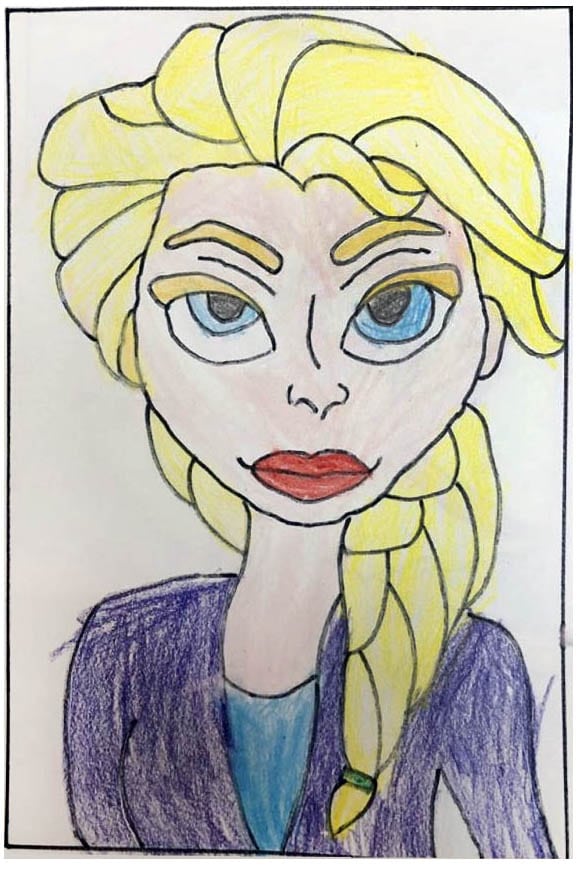 More Fun Cartoon Characters to Draw