If you make art with students very often, sooner or later you'll get this urge to have them collect it and keep it all in one place.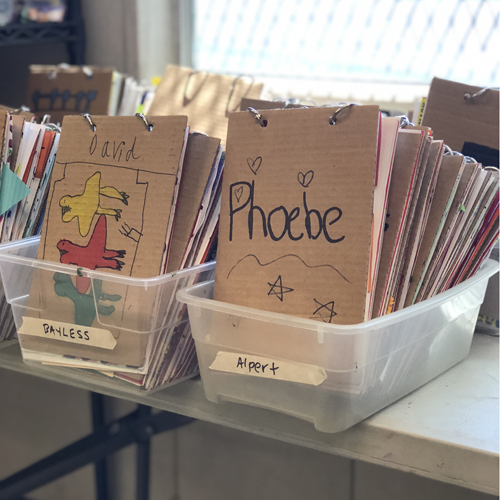 I struggled with this for years, until I discovered a two-hole punch at my local Staples store. It led to this 6″ x 9″ art journal for kids book ring system that worked so well, even other teachers started to copy it.
Here are a few reasons why:
It saves money. This requires only two book rings per student, 9″ x 12″ art paper cut in half, a paper cutter, and a two-hole punch. The covers are free if you recycle by having students bring in old cereal boxes, etc.


It saves time. No more sorting of artwork. Each student is now responsible for finding their journal and putting away their own art at the end of each class. Third graders on up can easily do this, any younger and they can do this with some assistance.


Cuts down on unfinished student work. The 6″ x 9″ paper is much easier to finish than the usual 9″ x 12″ size, especially if your art class is short on time. Early finishers? Easily flip back to old work and complete unfinished projects.


Art makes it home safely. Single projects that go home in backpacks often get folded and beat up in the process. This guarantees some protection until the end of the year. Making art at home? Now you can keep sibling art separate.


Parents love it. They have an easy way to save all their child's work in one place too.


Watching their journals grow instills a sense of pride. Students start to appreciate the idea that some things take time, that a collection of their work can be pretty amazing if they just keep at it.
MATERIALS
Cardboard, cut to 6″ x 9″ size and hole punched
*The above product links are referrals. If you click through and take action, I'll be compensated a small amount, at no extra expense to you.
DIRECTIONS
Cut cardboard to 6″ x 9″ with a paper cutter. Use paper punch to center two holes at the top.
Cut drawing paper to 6″ x 9″ size with paper cutter.
Students make their art on their paper. When complete they place it between two cardboard covers, slip rings through all, and clip shut.