Learn how to draw a rose for kids with a circle and then a pattern of lines for the look of a flower that has yet to bloom.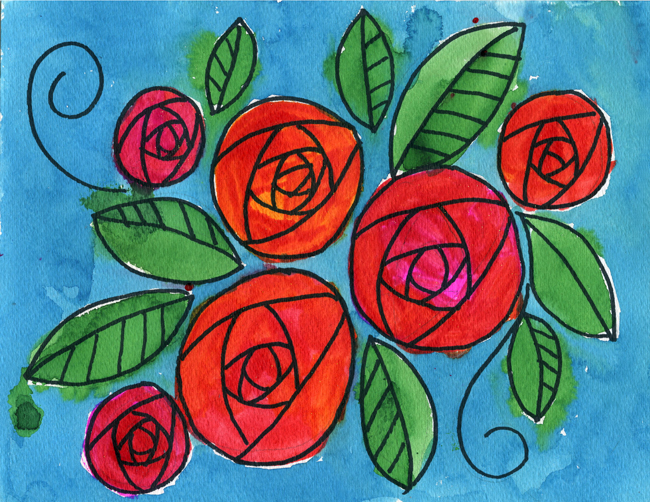 Learn how to draw some simple roses that look like they are about to bloom. Young students can just draw lines inside to make the petal shapes, but older ones may be able to see a pattern.
This is also a good painting project as it's so much easier to paint circles than tiny little petals. Try mixing in some hot pink and orange for an extra pop of color.
I wish I could thank the Flickr artist who thought this up, it's certainly inspired quite a few art projects, just starting with this one.
LIKE THIS VALENTINE PROJECT?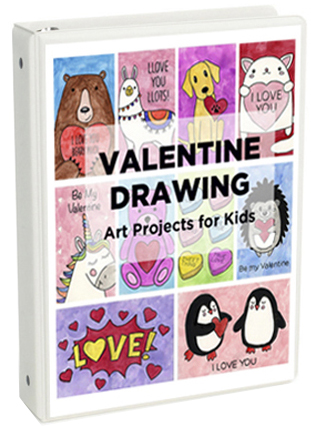 There are a lot more fun and easy ones in my new VALENTINE DRAWING ebook. 
It contains 25 tutorials of things to draw as stand alone art, or perhaps very sweet homemade cards.
Each project includes easy to follow step-by-step tutorial, a full size line drawing for reference, and finished color sample. Just click on the title or book to learn more.
MATERIALS
• How to Draw a Rose for Kids Tutorial
• Watercolor paper*
• Sharpie marker, chisel tip
• Liquid Watercolor, I like the Sargent Art brand*
*The above product links are Amazon referrals. If you click through and take action, I'll be compensated a small amount, so thanks in advance if you do.
DIRECTIONS
Time needed: 1 hour.
How to Draw a Rose for Kids
Draw 6 circles.

For each rose, start with curved line.

Add another line.

Add another line.

Add another line.

Add another line.

Finish with center lines as shown.

Repeat for all the circle flowers. Add leaves.

Trace with permanent black marker and paint with watercolors.