Here's an easy way to make a very yummy looking cake sculpture, thanks to all the great food-looking colors that Model Magic comes in. Their natural set makes a perfect chocolate and caramel, and the white looks like whipped cream every time. Need one more reason? Math is involved when circles are cut into quarters. Fractions have never looked so good.
MATERIALS
• Model Magic, naturals
• Model Magic, assorted colors
• Manila folder, or similar heavy paper
• Old yogurt container
• Utility scissors
• Corrugated cardboard
• Aluminum foil
• Glue stick
• Mod Podge Spray
DIRECTIONS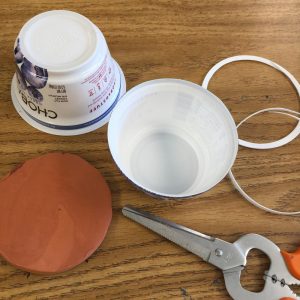 1. Trim the edge from a yogurt container with a utility scissors.
2. Pat out circles on a manila folder. Keep turning and smoothing them.
When they are large enough, use the container to make a circle.
Make one of each color.
3. Stack the two circles on top of each other.
4. Use any scissors to cut the circles into quarters (math problem!).
5. Stack all the quarters together.
6. Pat another pancake and place the quarters on top as shown.
7. Trim off the excess around all the sides.
8. Cut a circle from a sheet of corrugated cardboard. Rub with a glue stick and wrap aluminum foil on top.
9. Have fun adding whipped cream, cherry, drizzle and more. Spray with Mod Podge to keep the colors from getting dried out.
Save
Save
Save
Save
Save
Save
Save