Easy Scream Art Project Tutorial and Scream Art Coloring Page
Below you'll find an easy step-by-step how to draw a Scream Art Project and Scream Coloring page. Scroll down to learn more and download yours for free.
Scream Art Portrait
I wish it was my brilliant idea to mix blow painting with a Scream art project, but it actually comes from a woman named Joslyn who first posted it on her blog in 2011. She has further tips and a recommended book so please check it out HERE. Thanks Joslyn, it's a super popular project idea!
The first step is for students to draw themselves with definite scream look to their face. Fortunately, it only takes a few simple tweaks. The mouth, of course, needs to be open wide, but you also need to slide your features up a bit. When the face looks as if it's raised, then the screaming look gets even more exaggerated.
One tip to pass on to students – be sure they color their face really well. In order to have their watercolor blow paint look like it's sitting on the skin, there needs to be a heavy layer of wax crayon underneath. Shading lightly will not give the same results as the example above. It takes extra time, but is oh so worth it.
WARM UP TIP
Look at Edvard Munch's "The Scream" painting before drawing to see how much expression can be created with lines and color.
Use the Button below to Download a PDF Tutorial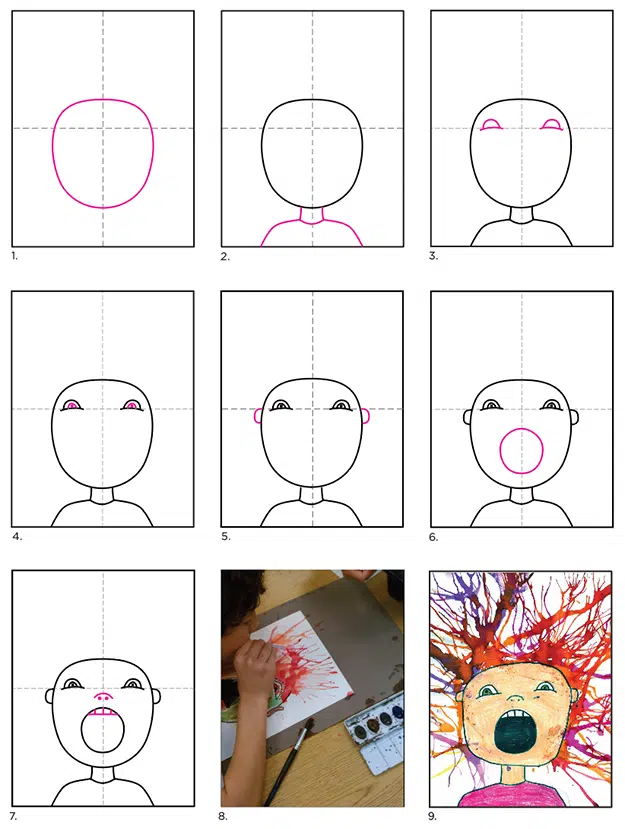 Scream Art Project Coloring Page
Materials for a Scream Art Project
Watercolor paper

Sharpie marker, chisel tip
Crayons
Watercolor paint
Straw and cups for paint
Step by Step Directions for a Scream Art Project
Time needed: 30 minutes
How to make Scream Art Portrait
Draw an oval that is a little flat on the top.

Add a neck and the shoulders.

Start the eyes, making them sit extra high on the head.

Add half circles that are sitting inside.

Draw two ears.

Add very large mouth.

Draw the nose and the teeth. Trace the lines with a marker and color heavily inside with crayon.

Make watercolor puddles around the head and blow them with a straw.

Blow all the lines as far as you can to get lots of skinny little ends.
Scream Paintings by students
More Scream Projects