Art Trading Cards are amazing, considering what dedicated artists can create on the very small 2.5″x 3.5″ format.
MATERIALS
Watercolor paper
Paper cutter
Black Sharpie marker
Liquid watercolor paint
Crayons
Old phone book papers
Gelli pens
Various markers
Misc stencils
DIRECTIONS
PREP: Cut watercolor paper into 2.5″ x 3.5″ cards.
WATERCOLOR PAINTING: Draw image with marker and fill with watercolor paint.
WATERCOLOR BLEED: Paint part of a rainbow and let colors bleed.
WATERCOLOR + LEMON JUICE: Paint background, add drops of lemon juice. Let dry, dab.
WATERCOLOR RESIST: Draw with a crayon and cover with watercolor paint.
WATERCOLOR + SALT: Paint with watercolor and sprinkle with salt. Rub off when dry.
WATERCOLOR COLLAGE: Paint old phone books, let dry, and cut into a collage.
MARKERS + STENCILS: Use a marker to fill lots of lines inside a stencil.
Crazy Watercolor ATCs
Lemon juice dropped on a watercolor art trading cards will make some pretty cool shapes if left to sit for a few minutes.
Give it a few minutes to soak, dab away with a tissue, and some crazy shapes are left as a result.
MATERIALS
Watercolor paper, cut to 2.5″ x 3.5″ ATC size
Dr. Ph. Martin's paint
Lemon juice (bottled is fine)
Brush
Trading card sleeves
Black pen or thin black marker
DIRECTIONS
PREP: Cut watercolor paper to the standard ATC size: 3.5″ x 2.5″.
1. Paint with liquid watercolor paint, overlapping areas so that they bleed together. NOTE: I used Dr. Ph. Martin's paint to get the intense colors. If possible, use full strength paint to get maximum color. Let dry, or make many cards so to give the first ones time to dry.
2. Use a brush or eyedropper to place small dots of lemon juice on cards. Let sit for a couple of minutes before dabbing with a tissue. The citric acid will "bleach" out the color below it.
3. Use a black ball point pen or marker to trace the shapes that are created and turn them into whatever creatures come to mind.
"Things that are Orange" ATCs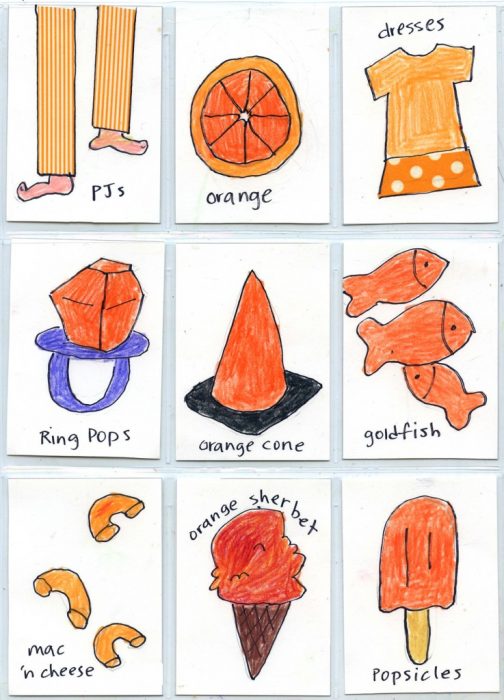 MATERIALS
Card stock paper, white
Paper cutter
Assorted orange art supplies like washi tape and patterned paper
Scissors
Glue stick
Assorted markers
Pencil crayons
Trading card sleeves
DIRECTIONS
PREP: Cut nine cards for each student, 2.5″ x 3.5″.
Students draw things on their cards that are orange. I shared some orange Washi tape from Michaels in polka dot and striped patterns for extra inspiration.
They trace the edges with a thin black marker.
The shapes are colored in with pencil crayons.
Cards are kept in trading card sheets that you can find online or at Staples.