Easy How to Draw Cherries Tutorial
Learn how to draw Cherries with this easy step by step tutorial. There are even a few Elements of Art lessons tucked in this pretty drawing project.
If these cherries look like they are making a nice, pretty drawing, it's because they are actually using a few of the Elements of Art to do so.
First, the LINES of the stem dip down inside the cherry, as opposed to just attaching at the edge. That alone gives them a dimensional look.
Second, the cherry SHAPES are overlapping each other, which also adds some depth.
Third, analogous COLORS (those that are next to each other on the color wheel) are used on the stem and the cherry to add some extra shadows.
You could even add the fact that the three cherries are BALANCED, by having one in the center and two on the sides. That's actually a Principal of Design, but who needs to be technical?
Use the Button below to Download a PDF Tutorial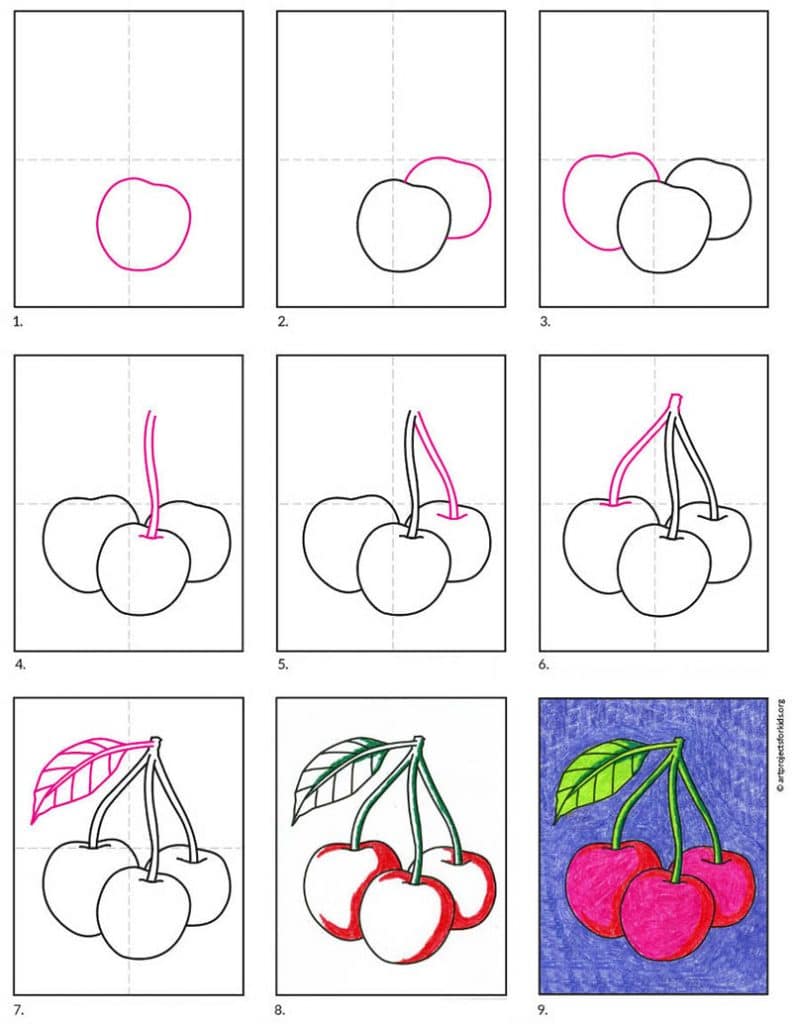 Materials for Cherries Drawing
Directions to Draw Cherries Step by Step
Time needed: 25 minutes.
How to Draw Cherries
Draw the center cherry.

Add another on the right side.

Draw another on the left.

Add a stem to the middle cherry.

Draw the stem on the right cherry.

Add a joining stem on the left cherry

Finish with a large and attached leaf.

Trace and add the dark red and green.

Add the pink / red and light green.
More Fun Food Drawing Projects