The best art projects for blending colors involve oil pastels, if you ask me. The thickness of the media actually lets you mix them on the paper.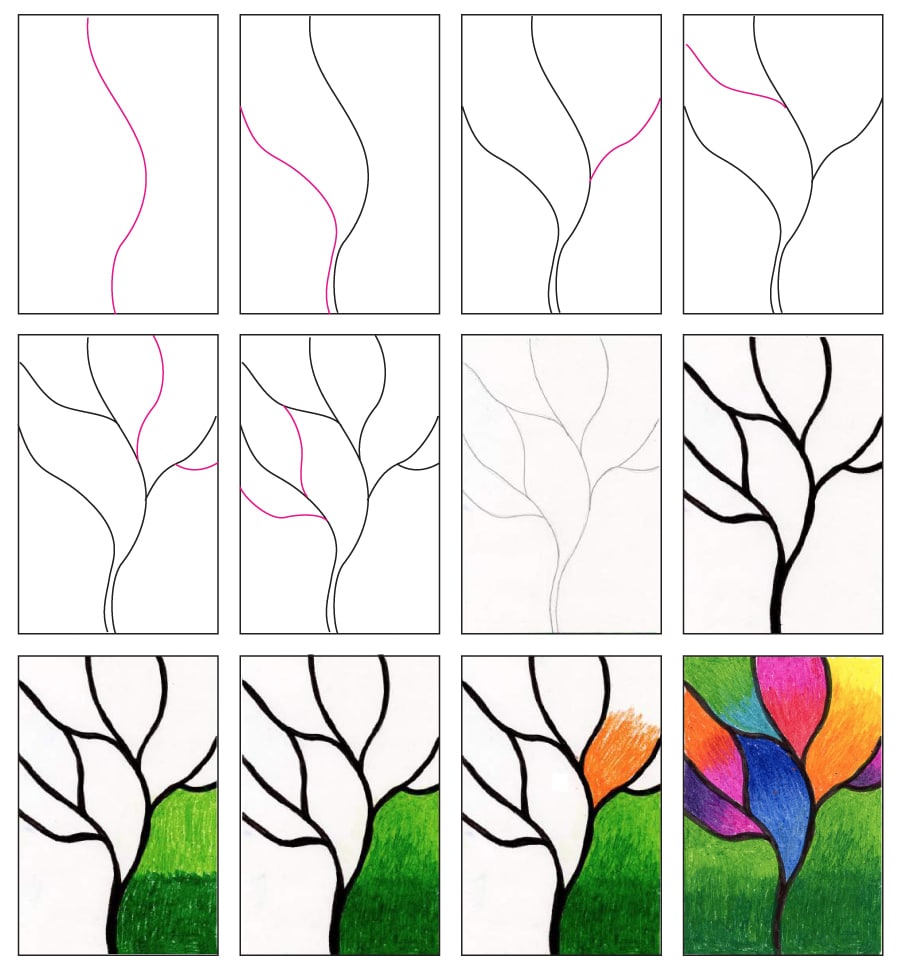 When you have learned to color really well with oil pastels, as in not leaving any white spots, it's time to practice blending colors together.
Learn how to do it well, and make a gradual transition from one color to the next, and a new world of coloring possibilities opens up to you.
LIKE THIS ART JOURNAL PROJECT?
For more easy drawing tutorials like this one, please see my "Principles of Design" ebook in my PDF Shop.
It's a collection of projects with an Principles of Design themes, that are simple and designed to with my Recycled Art Journal system.
MATERIALS
Drawing paper, 12″ x 9″ cut to 6″ x 9
Oil pastels
DIRECTIONS
1. Draw the center of the tree, extending from the bottom to the top of the paper.
2. Add a wavy branch to the left.
3. Add a wavy branch to the right.
4. Add another branch on the left.
5. Draw two more branches on the left.
6. Draw two more branches on the right.
7. Make sure your pencil lines always go off the paper.
8. Trace the pencil lines with a marker. Trace them again to make them thick and fill in the trunk
9. Color one area with two colors that are similar.
10. Use both pastels to color back and forth over the edge until blended.
11. Start the next area, always completing each with similar colors and blending carefully.
12. Continue until all the areas are colored in.