Day of the Dead Skull Drawing for Kids and Coloring Page
Below you'll find an easy step-by-step tutorial for how to draw a Day of the Dead Skull and a Day of the Dead Skull Coloring Page. It's a day that is meant to celebrate those who have passed on.
Day of the Dead and Drawing
Since ancient times, Mexican people have seen skulls as an important symbol of life. Now students have some help learning how to draw a Day of the Dead skull, and a few ideas for how to decorate one.

Day of the Dead skulls represent a departed loved one and are usually placed on an altar, an ofrenda, as an offering to the spirit of the dead. They are often highly decorated, including the deceased person's name. This tutorial will help students draw a simple skull, and give them some ideas for how to add flowers and other fun and pretty shapes.
Join "The Daily Draw" below to get this free download!
Day of the Dead Skull Coloring Page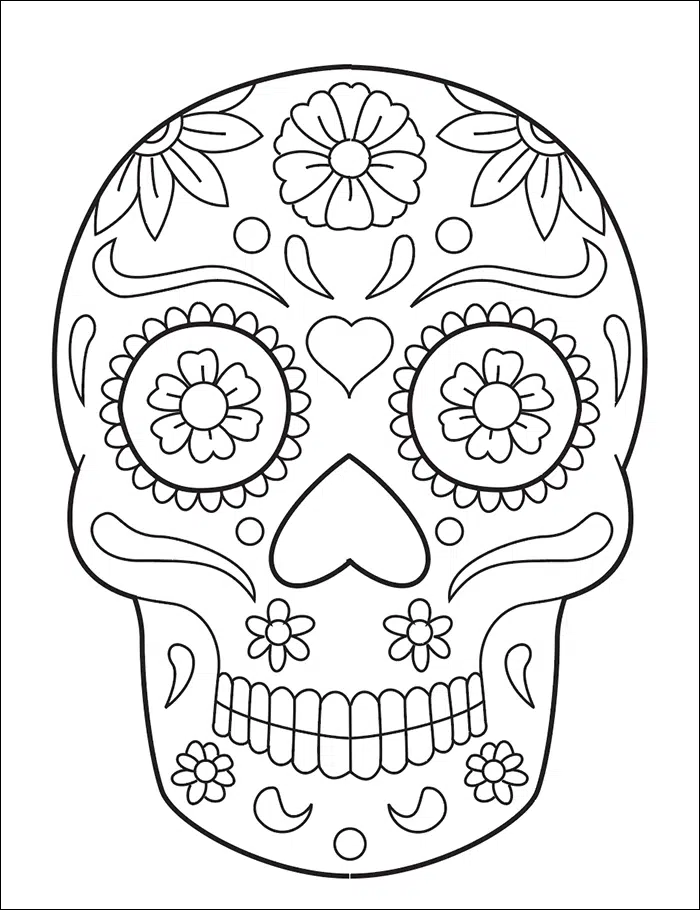 Why Draw with Guides?
You may have noticed that all of the tutorials on this website have a dashed vertical line and horizontal line running through the center of each step. If students make their own centered lines on their own paper, before drawing, they will have an easy reference to follow. All they need to do is fold their sheet of paper in half both ways, make a crease, and unfold. The best part is, by the time the drawing is done and colored in, the creases will have disappeared!
Materials for a Day of the Dead Drawing
Drawing Paper. This is the good stuff you can buy in bulk for a good price.
Pencils. Don't waste your money on the cheapest brand. These make nice dark lines.
Black Marker. A permanent marker will give you a nice dark black color.
Stabilo Markers. I love this brand! They have amazing color selection and the perfect ends to color with. Not too fat, and not too thin, just right.
Note: All of the above are Amazon affiliate links.
Directions for a Skull Drawing
Time needed: 1 hour
Draw a Day of the Dead Skull
Draw the outline of the head.

Add two symmetrical cheek shapes.

Draw teeth lines and erase two lines.

Finish teeth with curved lines.

Draw the two eyes and nose.

Start symmetrical flowers at the top.

Continue with more symmetrical decorations above the eyes.

And finish with symmetrical shapes below the eyes.

Trace with a marker and color. Add a gray shadow on the side, if desired.
More Fun Skull Projects